Heroes Of The Storm: Eternal Conflict Adding More Diablo
Oh, Leoric!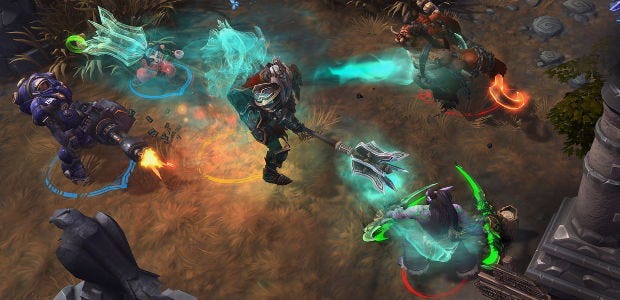 We knew Diablo's Butcher was coming to Heroes of the Storm [official site] with its Diablo-y Eternal Conflict expansion, but Blizzard had saved up a little secret or two. They don't let you even into Los Angeles this week unless you have something new to show off, you know.
The Monk and dear old King Leoric the Skeleton King are also making his way to the free-to-play Dote 'em up, Blizzard showed off last night in a new trailer.
The Monk is the first Diablo support character to be added to the game, which means we can expect him to have some nice healing and/or crowd control abilities. A new map, the Battlefield Of Eternity, will also be included when the expansion drops on June 30th. No word on price.
King Leoric's unique selling point is his ability to stay on the map after he dies. Doing so won't allow him to do any damage, but it does give him a chance to make his death timer shorter by doing wraith damage.
Treasure Goblins are an extra little addition to Eternal Conflict. These are creatures that spawn before the games begin. If you spot one, kill it. You'll be rewarded with in-game gold and other rewards.