Blizzard's MOBA Heroes Of The Storm Now In Open Beta
Get yr Dote on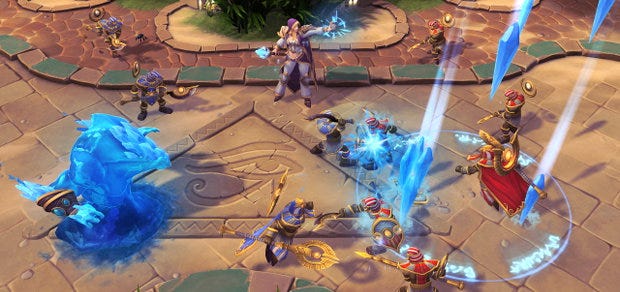 There is, I know for a fact, a special drum in the Blizzard offices. This drum is chained in a dark oubliette "lest it awake". Carved from glimmering red-flecked obsidian, its five-metre span is topped with a skin that feels eerily familiar. Some swear they've seen obscene glyphs tattooed into the skin, dark marks which vanished upon blinking. It is Blizzard's launch trailer drum. Crows rising from the trees this morning to pelt themselves at my window mean the drum has been sounded.
Heroes of the Storm [official site] has launched into open beta, and the drum booms mightily in its launch trailer.
Heroes of the Storm is Blizzard's crack at the MOBA market. It was first announced way back in 2010 under the makeshift name 'Blizzard DOTA' as a custom map for StarCraft II. Following a tussle with Dota 2 makers Valve, it eventually landed on its current name. Now it's in open beta, all and sundry can download it from Battle.net with keys or queues or anything. It'll properly launch free-to-play on June 2nd.
It's another MOBA, to be sure, but does try a few different things. Here, read what Rich Stanton - who'd failed to get into Dota 2 or League of Legends - wrote when he played the closed beta earlier this year. In short, it's trying to be friendlier and keep action rolling. Does it work? See for yourself now. But beware the drums.