Historical Maps: Rise Of The Triad Classic Editor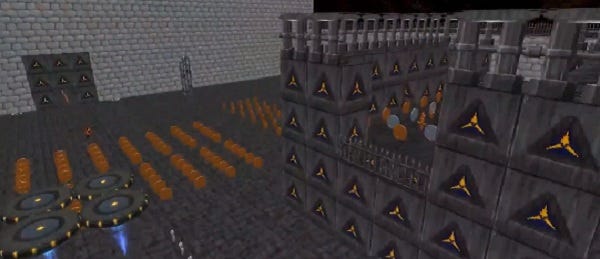 The original Rise of the Triad was an incredibly odd game. It isn't even necessary to talk about the ludicrous gibs or dog mode to reveal the underlying strangeness because the whole thing was weird from top to bottom, beginning with the level design. To anyone who didn't play shooters in the early nineties, the game's plot might well lead them to expect areas that resemble coastlines, island lairs and ancient monasteries. Instead, it's mostly jump pads. Before Duke Nukem 3D and the brilliance of the Build engine, abstraction was the norm. But our imaginations filled in the blanks and provided context. Revisit those times with ROTT 2013's classic editor mode.
This sort of thing is just about the limit of my level editing abilities. I've been dipping into the Apogee Throwback Pack, which is free with ROTT preorders, and am amazed how many of the maps have remained in my memory.