Hitchhiker still exists; is still good
Get out of my dreams and into my car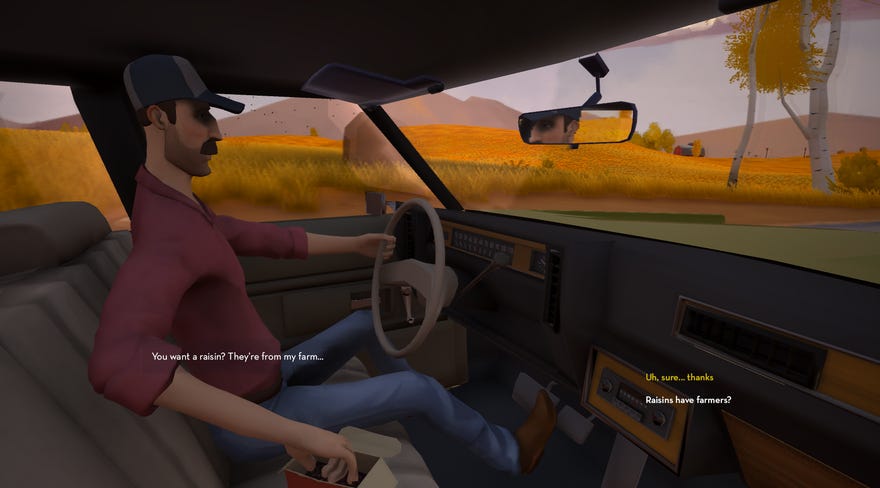 Hitchhiker has left me in a small pickle. Alec already reviewed it over a year ago, when the first drive came out as a Humble Original. That drive is the bit I've played too. But I did really enjoy playing it, and got a small glimpse of where the game is going, and I've found I want to remind everyone it exists as a result. So writing about it is partly a cucumber of my own vinegaring. Or possibly a grape of my own drying. Into a raisin. You might not understand that joke yet but I assure you it's a relevant reference.
Alright, so let's go over this again. in Hitchhiker you're a hitchhiker, and the game starts as you're picked up by an affable, late middle aged man with a big bushy moustache and a trucker hat. You don't know where you're going, or where you've been, and neither one of you introduces themselves to the other, but you're on a nice drive through golden fields, so who cares?
The producer and game designer Patrick Rau, who was chatting to me as I played, told me that the reason the driver has such fulsome facial hair is to cover his mouth. Hitchhiker, visually, is light on the fine details, like the background of a comic panel, or as if everything you're looking at is in the distance. Thus your companion has a mouth, but it doesn't move when he talks. The moustache makes that look less weird, since you're up close and most of the game is him chatting.
He talks a lot, in a way reminiscent of Sam Elliott/Burt Reynolds/Matthew McConaughey, depending on your own personal cultural touchstones. But despite him being a type, there's a very strong sense of who this character is. It has a deft weaving together of the pop culture stereotypes of modern cowboys with enough personal stories that you know who you're talking to. He's a raisin farmer (see!), he's vaguely spiritual, he's met enough people to know people are all the same, and so on. Except you don't know who he is!
His folksy pearls of wisdom start getting pretty weird, and somehow menacing, and you can't stop the car please I want to get out. It's awkward too, you know those weird social interactions you have with people who are basically strangers but you need to like you for the space of time you're talking? Like your partner's mum asking you to do karaoke the first time you meet.
At one point he tilts the mirror and you see someone is sitting in the back seat. You realise that not only do you, the player, not know your character's name or where he's going but neither does he. And not long after that you notice that you're driving in circles, because you've seen that nice red barn at least three times now. It's not, as Alec pointed out, that subtle, but it's very well done. Eventually you get a little moral tale told to you that seems to be pretty clearly a metaphor for purgatory. So, helpfully, recapping the game for you is actually pretty fitting. I win!
The developers have been working on making the little half hour drive from a year ago shine a bit brighter. As well as the landscape, Rau said one of the things they worked on over development was the inside of the car -- whether it's too busy or not, essentially. But mainly they're working on the other rides that you hop into. They've been quiet on details publicly, but I saw concept art of diverse drivers, skinny, fat, short, tall, different races, genders, dressed like slackers, mums, hippies… they represent different rides, almost different moods. And I want to meet them, because I know who the Raisin Farmer is after meeting him, so I want to see what all these other people are like too.
The thing is, I'm probably not telling you much more than Alec did over a year ago. But Hitchhiker bottled an amazing mixture of comfort and unease, because we've all been in weird conversations with strange people that we couldn't get out of, and we've all got stuff that we're guilty about and build into a prison in our own heads. And we've all been on long road trips, through scenery that seems to repeat and repeat, picking at snacks along the way.
The first drive has an Americana vibe, but it made me think of a quintessentially English thing, which is: going on holiday to the English coast. When I was a kid we would drive down to Cornwall every year at about the same time, and stayed in the same cottage. The drive was an endless motorway, and then endless fields, indistinguishable country roads, and Dartmoor. A big flat dinner plate of wild grass, rocks, flashing ponds and occasional ponies. I think it's beautiful now but as a child I remember being fed sucky sweets covered in icing sugar to stop me being travel sick, and I swear to God when you're seven years old a four hour drive might as well be literally forever.
Hitchhiker somehow captured that very specific sort of feeling, and so I don't want anyone to forget that there might be more of it soon. I really liked it! So, you know. Have another raisin, and wait.