Hitman 2 is out this November, bigger, bolder, murderier
A whole new world of mans to hit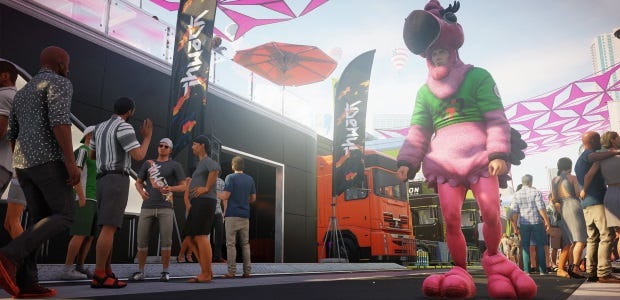 Much like Agent 47, Hitman 2's approach wasn't nearly as stealthy as it hoped to be, but the end results aren't to be sniffed at. Eagle-eyed internet people spotted its logo a few days back, but today Io Interactive officially announced the sequel to 2016's episodic murder-sandbox. Unlike the previous game, this one will be released all in one go (with plans for later expansions) and is available for pre-order, with the deal sweetened by immediate access to the Sniper Assassin co-op mode.
Not to be confused with that other Hitman 2, this new one looks to be more of the same compelling and replayable puzzle-box gameplay that the previous game nearly perfected. Big complex environments filled with moving pieces and accidents just waiting to happen, and you set loose with a naughty-list of targets and a box of toys. Io say maps will be even larger this time to facilitate more sniping fun and you'll be able to smuggle in heavier gear using 47's stylish little briefcase, which was missing from the previous game.
There will be a little more focus on story this time round, with forces closing in on Agent 47 and his handler, Diana. Io say that they'll also take a look into 47's past and origin story a little, which is something that the pre-reboot games explored and concluded quite thoroughly. Io also joked that for the first time they left enough characters alive to justify a full sequel, as previous games did tend to end in a festival of violence that tied up most potential plot threads.
Nearly all of Hitman 2016's features are confirmed present and correct, including elusive targets, contract missions, escalations, and apparently some new game-modes coming as well. One entirely new feature is the Sniper Assassin mode, where two players control two new characters, and solve all their problems through high-calibre bullets deployed from extreme range. It kinda reminds me of the old arcade game Silent Scope, and while you can't move around (it's a pure sniping challenge) there's still a bit of Hitman's easter-egg heavy, multiple-solution style here.
The debut stream also showed off one of the main missions from the game. Set in Miami, 47 will be infiltrating a high-profile endurance touring car race event, which means big roads, big buildings, and huge crowds. Among the many possible disguises are a pair of flamingo mascot suits, one of which you can see above, and I cannot wait to dress the grumpy bald murder-man in that. Your target there will be a pair of high-ranking folks working for an evil tech company - I do appreciate that Hitman has made steps towards addressing its karmic balance.
My only concern is the pricing of the game. It's not surprising that the basic version of the game costs £45/$60, but there are also Silver and Gold editions costing £60/$80 and £70/$100 respectively. Silver promises one expansion, Gold promises two, but the wording chosen may betray their scale; Silver adds a 'new location' and Gold adds 'new locations'. Only one new map per pack? I'd be glad to be wrong, but I'm the cynical sort when it comes to major publishers, and Io Interactive have partnered with mega-studio Warner Bros for this one.
Hitman 2 will be arriving on November 13th, and you can wishlist or pre-order it over on Steam here.