Hitman's Game of the Year Edition sneaks out
Better murders than ever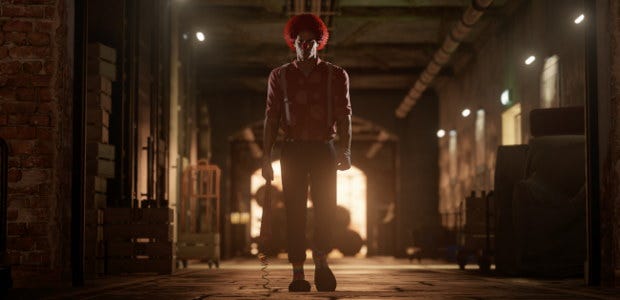 Wonderful murder simulator Hitman today launched its 'Game of the Year' edition, bundling the game's original episodes together with new outfits, weapons, and contracts plus a new bonus campaign. These new bits will be sold separately for people who already own the original game. For all hitmen, whether they get this new package or not, developers IO Interactive have updated the base game with fancy newness including a redesigned UI and improvements to the lighting in levels. Oh and, for hitmen who missed them the first time, the one-off Elusive Contracts will return.
Hitman GotY packs the game's six main episodes and the old bonus episode then chucks the new 'Patient Zero' bonus campaign plus the new cowboy, 'Raven', and clown outfits with new weapons and escalation contracts for each.
Patient Zero is the highlight here. "After the routine elimination of a target," IO explain, "a contingency plan to unleash a global pandemic is triggered and Agent 47 must race against the clock to prevent a virus from spreading." Oh dear. That'll play out across four missions, revisiting the Bangkok, Sapienza, Colorado, and Hokkaido levels. Those are reworked for this, set at different times of day and offering different sneak-o-murder opportunities.
As for today's update, that's free for everyone. The bit I'm most interested in is the reworked lighting, as Hitman could look pretty at times and spreading that sounds grand. "New colour grading, readjusted HDR adaptation rules and re-designed skyboxes mean that our locations look more vivid, vibrant and lifelike," IO say. I'm in.
Also new: a reorganised and redesigned user interface, support for the Tobii eye-tracking peripheral, and new options to create challenges in Contracts Mode. See the patch notes for more information.
Elusive Targets aren't here just yet but should be soon. These, to remind you, are the one-off assassinations which appear for set -- and short -- stretches of real-world time and if you muck it up, you've failed forever. Some players have felt miffed that they missed these murders back in the day, so new opportunities will be rolling around again. They'll still be fleeting events, not permanent fixtures, and hitmen who muffed up a kill the first time around won't get a second go.
Hitmen who own the 'Complete First Season' edition can upgrade to the GotY for $20. For those going in fresh, it's the curious price of £43.83/€58.31/$61.51. And if you were buying episodes individually but didn't get the lot, Steam has an auto-discounted bundle to complete the package. Either way, head to Steam.