HoI III: For The Motherland Is Taking Shape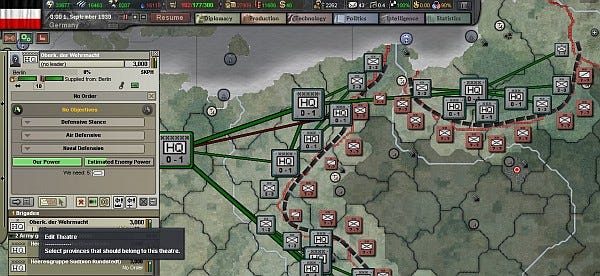 Details on Paradox's second expansion for historical heavyweight Hearts of Iron III (the first being Semper Fi) are starting to emerge, like flares fired high over the endless battlefield that is everyday life. Entitled For The Motherland, the expansion will focus on the Soviet Union and the Eastern front of the war. You can watch a 7 minute interview with game designer Chris King after the jump. Because I am a lovely, I've also summarised what he's promising from the expansion in easily digestible bullet points.

Developers tend to be as evasive as a lubricated fox when it comes to talking about the oft-obvious inspiration for new features, so I like the bit in the video when Chris cheerily describes a new feature coming in For The Motherland that the team "lifted" from Victoria. His honesty falls upon my soul like gentle summer rain. But yes, that man Chris promises:
A new system for modelling partisan warfare, with you slinking your units around behind enemy lines, sabotaging important military targets and generally being a bit cheeky. This'll allow the team to model both the Eastern front and the French Resistance with greater accuracy.
A new system of "war goals", making diplomacy more realistic because certain countries will want certain things, and that'll factor into their decisions.
The U-boat war will now take place in the North Atlantic, as well as other changes that will allow HoI to model the "undeclared war" that America was involved in.
The ability to sponsor coups in other countries
Support for multi-core CPUs
Improved AI
Interface streamlining

Don't believe me? Fine. FINE. HERE IS THE EVIDENCE.