Holy Moly: Wings of Saint Nazaire Alpha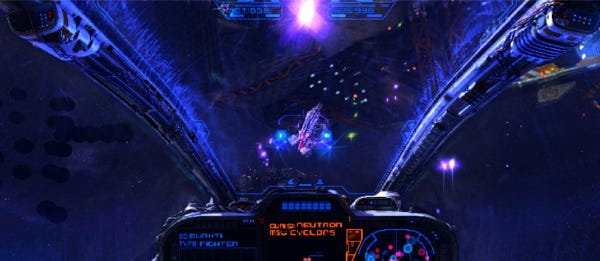 Unity might be the most marvelous thing for web games since the retiring of Internet Explorer 6 - just look at how pretty that gunfire is! Wings of Saint Nazaire, along with continuing the tradition of difficult to pronounce indie games, is a space pew-pew simulator currently in playable alpha. The x-factor is the ability to be played in-browser via the mentioned and currently red-hot-popular development platform.
Developed by a three-man, one-beard team, it's at a very much proof of concept stage but sweet ideas are beginning to shine through. Just flying around feels smooth, capturing that "I'm so fucking cool" sense while dodging between capital ship trenches and beams in pursuit of an enemy fighter that makes you wonder how the genre could possibly have "died" in the first place. Missiles home on targets with wonderful swirls, impacting with a satisfying explosion that sends permanent debris flying. I'm willing to let it go with an Alpha tag, but the method behind the beauty does begin to reveal itself if you get too close; ersatz-3D models showing their true form of cunningly manipulated sprites, ugly at the current running resolution of approximately ass by dick.
Interested? Excited? Positively turned on? For more information, check out the FAQ which intriguingly promises a high skill ceiling for the inevitable hardcore fans, among other tidbits.