Norks Out: Homefront Revolution's Free Steam Weekend
Give it a go?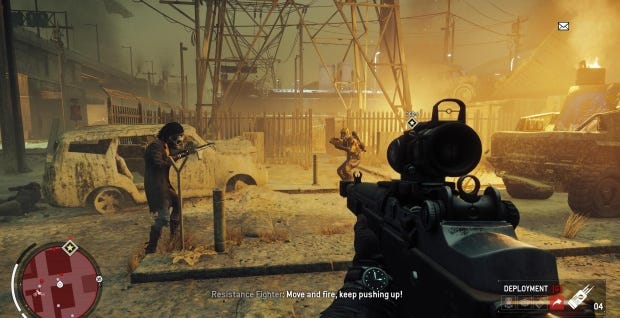 The full version of Homefront: The Revolution [official site] is free to try on Steam this weekend and sure, I'll bite. Our John's review talked plenty about bugs and bad AI, but he also found a lot to like in the open-world FPS. Yup, it sounds like the sort of game I'd like to try a couple of hours. This weekend trial comes on the heels of another patch boosting performance and fixing bugs so hey, I guess freeloading latecomers like me get a better first experience that people who paid money for it at launch. Sorry, you lot.
If you fancy a play, head on over to Steam and get downloading. The free trial will run until 9pm UK time (1pm Pacific) on Sunday. If you dig it, hey, the game's on sale too, down to £17.99/23,99€/$23.99 until Monday.
As for that recent patch, it talks of boosting performance by 15%, adding options to hide individual HUD elements, and boshing in two new co-op missions.
Here's a lump of Wot John Thought:
"And yet, despite all these enormous flaws, there's so much to celebrate in Homefront: The Revolution. It really is a huge accomplishment, an attempt to step on Ubisoft's toes, and in so many ways a successful one. Whereas Ubi's games from The Division to the Far Cries have fairly ubiquitous-feeling cities/islands to explore, Homefront's Philadelphia is really impressively varied. The shift in approach from a red to a yellow zone is both very welcome, and far more interesting. Getting to walk about in the streets, being extremely careful, but not having to shoot everything that moves, is great. Carefully negotiating your way through back alleys and finding routes up rubble-strewn buildings to reach hidden stashes, then creep across board walks to reach a distant balcony, jumping (when possible) for a ledge, and reaching an enemy target without having had to set off alarms is completely splendid. As can be picking them off one by one with your sniper rifle."
Yeah, I'll give that a go. Do read the rest.