Homeworld: Deserts of Kharak gets its first update in over a year, adding tactical pause
Kharak is back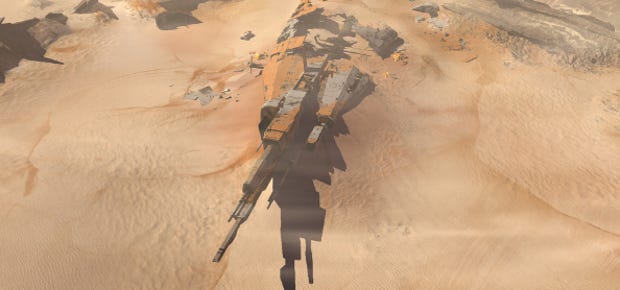 Homeworld: Deserts of Kharak launched in January last year, doing for ground combat what the original Homeworld did for space. Yet it seems like we've barely heard a peep from Blackbird Interactive since, and updates have been few and far between. So the 1.3.0 patch that went live yesterday has come as something of a surprise. It squashes some bugs, tweaks the AI and introduces a tactical pause feature to skirmish mode and the singleplayer campaign.
Tactical pause was a prominent feature in Homeworld, but was nowhere to be found in Deserts of Kharak thanks to strategy nerds who think it dilutes the RTS genre. Yeah, I'm calling you out. Anyway, Blackbird Interactive has realised its mistake and finally rectified it.
Here's how it works:
The player can now pause the game in the single player campaign and in skirmish games using the "P" key. During tactical pause players can issue combat, movement, and build commands to units which will be carried out once the game has become unpaused. There is audio feedback for any commands issued while paused, with visual feedback confirming the commands once the player unpauses the game.
On the AI front, two major improvements have been made to stop the AI from struggling during the middle of the game because of a lack of resources. Now, hard AI opponents will be able to harvest faster, while the nodes are depleted at a slower rate. AI air sorties will also no longer prioritise attacking support vehicles, instead favouring combat targets. Blackbird Interactive says that this should increase their effectiveness both offensively and defensively.
Check out the rest of the patch notes to see the long list of bug fixes and balance tweaks. Patch 1.3.0 is available now.