Homeworld's For Sale, And Supreme Commander Too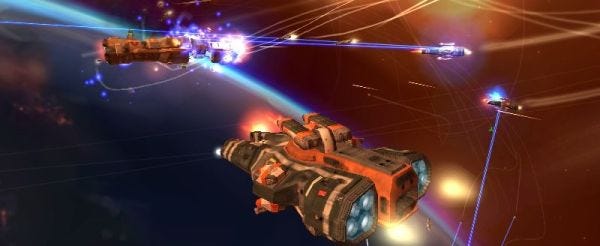 When Sega plucked Relic from the ashes of THQ last month, it appears they didn't get the Homeworld license along with it. So for now the sublime space RTS series remains without a home, in an odd case of life imitating art. The Homeworld IP is now up for sale in an auction of THQ's remaining stuff - as is the likes of Supreme Commander, Red Faction, Darksiders, Titan Quest, Full Spectrum Warrior and a whole host of names known and forgotten.

It's a sad business, and while I'm sometimes no fan of sequel culture, the concept of some of these once-great names simply ceasing to be is not a happy one. Hopefully non-exploitative, non-cynical buyers can be found for the main stuff. Wouldn't it be nice (and not exactly implausible, given the publisher's increasing PC-focus) if Sega did scoop up Homeworld, and reunite it with its creators? Or perhaps Gas Powered Games' new owners Wargaming.net could salvage SupCom.
We'll find out the fate of these names, all being well, in May. Highest bidder for each of the below lots takes 'em home. If you are a rich person or company interested in acquiring any of 'em, you've got until the first of April to declare your intentions and proffered monies to auction@thq.com.
Here's the complete list of what's up for sale. Godspeed, brave videogame franchises.
Lot 1 - OWNED SOFTWARE

Red Faction
Red Faction Armageddon
Red Faction 2
Red Faction: Guerrilla

Lot 2 - OWNED SOFTWARE

Homeworld
Homeworld 2

Lot 3 - OWNED SOFTWARE

MX Alive
MX vs ATV Untamed
MX Superfly featuring Ricky Carmichael
MX vs. ATV Alive Tournament
MX Unleashed
MX vs. ATV Unleashed
MX vs ATV Reflex
MX vs. ATV: On The Edge

Lot 4 - OWNED SOFTWARE

Darksiders
Darksiders 2

Lot 5 - OWNED SOFTWARE

All Star Cheer Squad
Elements of Destruction
All Star Cheer Squad 2
Fantastic Pets
All Star Karate
Frontlines: Fuel of War
Baja: Edge of Control
Full Spectrum Warrior 1
Battle of the Bands
Full Spectrum Warrior 2: Ten Hammers
Beat City
Juiced
Big Beach Sports
Juiced 2: Hot Import Nights
Big Beach Sports 2
Lock's Quest: Construction Combat
Big Family Games
Neighborhood Games
Crawler
Pax Imperia
de Blob
Stuntman: Ignition
de Blob 2
Summoner
Deadly Creatures
Summoner 2
Deep Six
Terranium
Destroy All Humans!
The Outfit
Destroy All Humans! 2
Titan Quest
Destroy All Humans! Big Willy Unleashed
Titan Quest: Immortal Throne
Destroy All Humans! Path of the Furon
uDraw
Dood's Big Adventure
World of Zoo
Drawn to Life
Drawn to Life: The Next Chapter

Lot 6 - LICENSED SOFTWARE

Costume Quest
Scripps Spelling Bee (Scripps)
Daniel X (SueJack)
Sherlock Holmes and the Mystery of Osborne House
Deepak Chopra's Leela (Curious Holdings)
Stacking
Fancy Nancy: Tea Party Time! (Harper Collins)
Supreme Commander
Jeopardy
Supreme Commander Forged Alliance
Jeopardy 2
The Biggest Loser
Journey to the Center of the Earth
Truth or Lies
Let's Ride Best of Breed
Vampire Legends: Power of Three (dtp)
Marvel Super Hero Squad: Comic Combat
Wheel of Fortune
Marvel Super Hero Squad: The Infinity Gauntlet
Wheel of Fortune 2
Marvel Super Hero Squad: The Infinity Gauntlet 2
World of Zoo
Nancy Drew: The Hidden Staircase
Worms 2
Nexuiz
Worms Battle Islands
Paws & Claws Marine Rescue
Worms Open Warfare
Paws & Claws Pampered Pets Resort 3D
Worms: A Space Oddity
PurrPals 2
Worms: Open Warfare 2 (Team 17)
Rio
You Don't Know Jack (Jellyvision)
Rocket Riot
Screwjumper (Frozen Codebase)