How to install your CPU
Gonna need a minute to process this
Here comes the tricky bit in our How to build a PC guide. I know I said that earlier when we were learning how to install a motherboard, but that was just fiddly. Installing your CPU requires a delicate sense of precision, as bending one of its many pins underneath could spell disaster for your entire build. So, take a deep breath, and let's get to it.
Step 1: First, remove any plastic casing from your motherboard's CPU socket and bung it back in your motherboard box. You may need to lift up the metal enclosure in order to do this, but you'll need it to leave it open for your CPU anyway.
For AMD CPUs, this will likely just be a thin metal arm down the side (see above). Lift it up as far as it can go.
Intel enclosure are usually a bit more heavy-duty (see above). You should still see a metal arm running down the side of the socket, but this will usually be secured by some kind of hook. Unhook it, raise the arm and make sure both it and the surrounding metal casing are lifted away from the socket.
Step 2: All right, CPU time. When extracting your CPU from its plastic container, be sure to hold it from the edges and avoid touching those aforementioned pins as much as possible. Intel processors are a bit easier in this regard, as they have fewer bits to bend and throw out of whack, but it's better to be cautious all the same.
Once you've got it out of the box, look for a small triangle in one corner. You should then see another one in the corner of your motherboard's CPU socket, and yep, you guessed it, they need to match up. Orient the CPU the right way up and carefully place it into the socket. It only goes in one way and requires no force whatsoever.
If it's in correctly, it should sit completely flush against the socket with no wiggle room to speak of. Now it's time to lower that metal arm you lifted up earlier and secure the CPU in place - which is pretty easy if you've got an AMD motherboard, as the only thing you need to do is tuck it back under the little plastic blob on the side holding it in place. Intel ones, on the other hand, may require a bit more manoeuvring as you hook the arm back into place and make sure the enclosure's properly secured.
Step 3: And breathe. That's the hard part done. Now it's time to flex those muscles and attach your CPU's cooler. You might have checked what type of cooler you had earlier when we were in the How to install your motherboard stage to see if you needed to attach it to a motherboard backplate, but if you didn't, take a look at its little square underside.
If it isn't covered in some kind of sticky grey stuff, you'll need to apply some thermal paste to the top of the CPU. Some coolers have this pre-applied, but most third-party ones don't, so get your thermal paste tube at the ready. If you don't have any, go and get some. It's not expensive - £5 for a small 8g tube in the UK and $7 for a 4g tube in the US.
You don't need very much, as it will spread and expand on its own once your CPU starts heating up. Just a small, drop-sized blob will do, nothing more, and certainly no bigger than a pea-sized blob either.
Step 4: Some coolers are easier to fit than others, but they're all a bit of a pain in the backside compared to everything else. Easily the most strenuous part of any PC build, don't worry if you find yourself having trouble getting these to stay in place. Just take another deep breath and try again.
First thing you need to do is align its screw points up with the holes around the CPU socket on your motherboard. If you have a particularly large fan, you may find you can only position it one way due to other parts of your motherboard getting in the way. If your cooler has an extra fan like the be quiet! BK009 below, then you may need to remove it so you can get to the mounting point. Just make sure the fan cables can still reach their respective headers if you need to turn it round.
Now it's time to put in some elbow grease. If you're lucky, the only thing you'll need to do is screw in each corner. If this is the case, pick a corner, then do the one diagonally opposite it next - this will make screwing the third and fourth corners much easier. If you're really, really lucky, then you don't even need to work up a sweat with your screwdriver, as cheaper coolers simply have pushpins you can press into position in seconds.
Sometimes, though, you'll have to contend with fiddly metal arms and hooking them into tight plastic nooks (see below). If you've got one of these, then you'll need to open the cooler's accompanying lever so you can move those metal arms more easily. Then, take the farthest arm (the one that isn't next to the lever) and hook it into place.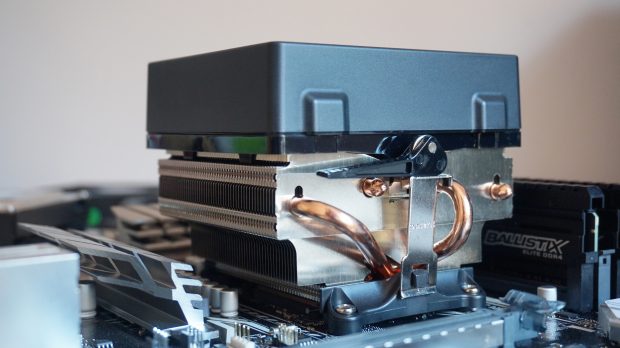 Place the cooler down over the CPU and then do your darnedest to clip the other lever in as well. Once you've exhausted yourself trying to do this, shut the lever (which may also require a bit of brute force) and breathe easy. You're done.
Next, how to install your RAM.
Contents:
How to build a PC guide
How to install a power supply
How to install a motherboard
How to install a case fan
How to install a CPU
How to install RAM
How to install a graphics card
How to install an SSD / HDD
How to connect your system panel connector and case cables
How to put your case back together again and connect your peripherals
How to install Windows 10