How to get the Bombardment killstreak in Warzone using the Protocol Access Key
Bombardment with the Protocol Access Key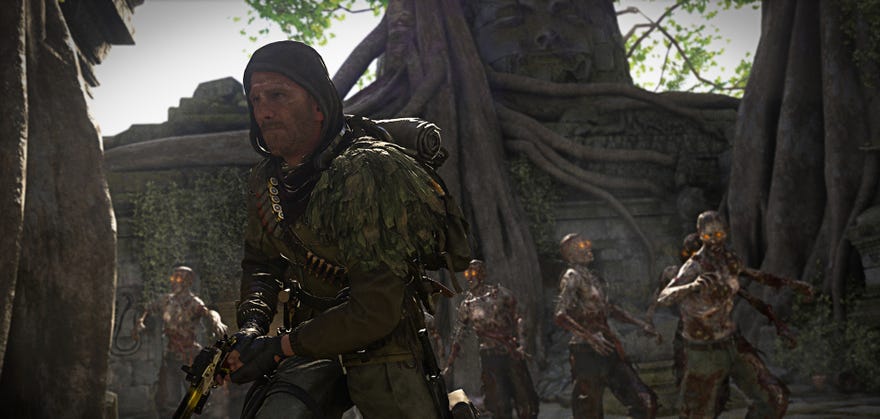 Call Of Duty: Warzone has a brand new killstreak available with the zombie event. It's called Bombardment, and if you get it done right you can get an absolute mountain of kills for absolutely free. It's tough to obtain though, so here's a full guide on how to get Bombardment in Warzone.
---
On this page:
How to get Bombardment in Warzone
Bombardment can be used after updating Warzone to the latest mid-season 2 patch. If you want to use it, you'll have to go through a few steps though, so just follow these pointers and you'll be bombarding faster than you can say 'oops, I set of Bombardment when the zombie area was in the gas'.
Head to the zombie event location - at the moment this is at the bank in Downtown. You can see where on the map the zombies are by checking which named location is crossed off the map.
Activate the zombies event by pressing the terminal in the location - so at time of writing in the bank's vault/basement area.
Kill all 40 zombies to complete the event and open the loot crate as a reward.
Pick up all the prizes, including the Protocol Access Key that spawns from the crate.
Go to whichever missile silo is convenient. There's one in Park and one just south of Military Base - we'll have a guide of all silo locations on the site soon.
Jump down the silo and activate the zombie terminal. Here, you'll be able to get the Bombardment killstreak for free, as well as purchasing other fancy expensive killstreaks like Advanced UAV and Foresight.
Now all you have to do is watch the kill feed (hopefully) fill up with free deaths on unsuspecting enemies!
---
What does Bombardment do in Warzone?
By completing the mission and successfully calling in a Bombardment, you'll be able to rain destruction down on the area occupied by the zombie invasion. Obviously, this is completely useless if the circle has closed past the invasion zone, so you won't get any kills if you're too late.
Check out this clip JGOD posted of OPMarked getting hit by the Bombardment for a bit of tangible evidence of it working out.
Bombardment hits. @OPMarked stream pic.twitter.com/F1iENQ7aZc

— James - JGOD (@JGODYT) March 31, 2021
---
Now, go get the zombies killed and set off those ludicrously powerful explosives! It's a pretty cool addition considering how little attention the zombies in Verdansk have got thus far, so give it a look. If you're interested in other helpful tips on succeeding in Verdansk, why not check out our Warzone best loadouts page, or even a bit of info on all the Warzone War Tracks you can blast out of your truck when you're traversing the map?