How to install Minecraft Forge for 1.15
Unlock the full potential of Minecraft mods
Forge has always been one of the most useful and powerful tools that a Minecraft player can download. Designed to make modding Minecraft as easy and pain-free as possible, Forge has allowed uncountable thousands of players to customise their Minecraft games as much as they want. This Minecraft Forge guide will walk you through how to get started with installing and using Forge for Minecraft 1.15.
---
How to install Minecraft Forge
To install Minecraft Forge, you'll need to be running the Minecraft Java Edition, because unfortunately Forge will not work with Minecraft Bedrock builds. If you're running Minecraft Java, just follow the below steps:
Head over to the official Minecraft Forge download site. You'll automatically be presented with the latest version of Forge to download, but if you're running an earlier version of Minecraft you can find the right Forge version using the dropdown menu on the left-hand side.
After finding the right version of Forge for you, click the button labelled "Installer" in the "Download Recommended" section, as shown below. You'll be taken to a brief advert page, but after five seconds a "Skip" button will appear in the top-right. Click this, and the download will start.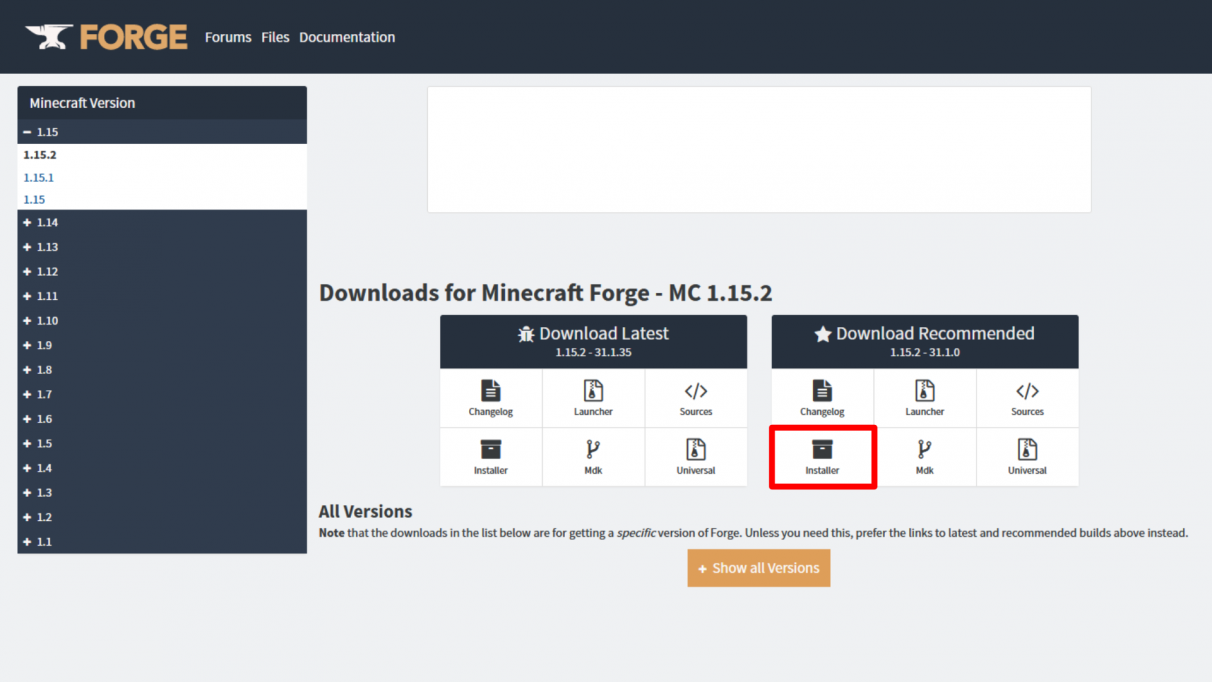 After the Forge installer is downloaded, find it in your Downloads folder and run it. If you get a warning about executable files sometimes containing viruses and other evil things, just click OK.
A little window should now open which allows you to pick between installing the client version of Forge or the server version of Forge. If you're not interested in running your own Forge server, just select "Install client".
After Forge has finished installing, open up the Minecraft launcher. Under the version dropdown menu, you should now find a new entry called "forge". Select it, and run Minecraft.
Once you're in the main menu of Minecraft, check the bottom-left corner. If you see some text beginning with "Forge" then everything is ready to go!
How to install Forge mods
After Minecraft Forge is installed and running, the process for downloading and using Forge mods is the same for any other type of Minecraft mod: just download the mod and pop it into your mods folder in your Minecraft directory.
The easiest way to navigate to your Minecraft directory on Windows is to press Win+R, and then type into the little window that appears "%appdata%/.minecraft" (without the quotes). Then hit Enter.
---
And that pretty much wraps up this Minecraft Forge installation guide - but that's not all the Minecraft-related wisdom we have to offer! Check out the links below to see the other Minecraft guides we've put together.
Minecraft guide series