The Vive Is Out: Here's What's Available & Wot We Think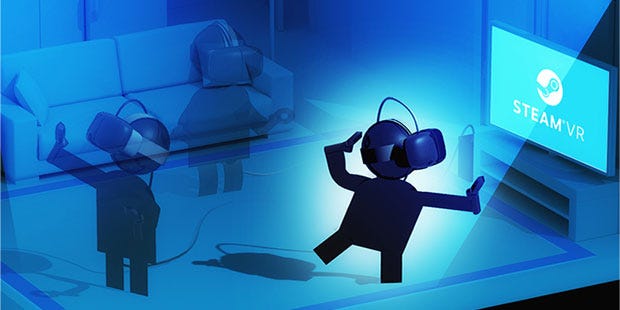 Today marks the release of the HTC Vive [official site] virtual reality headset and associated games. That means headsets are starting to be shipped and should arrive with pre-order-ers soon. We have imprisoned Alec in virtual reality to play everything and see what happens/write reviews but while he does that I would like to point out a glaring inaccuracy on the dedicated Vive website before pointing you to all of our Helpful Insights and so forth.
The cat.
Look at this cat:
Have you ever EVER known a cat that sits respectfully to one side when it could be getting in the way or tangling itself in your legs and trying to kill you by tripping you up when you can't see?
I feel like this must be an ornamental stuffed cat otherwise the entire scenario makes no sense.
If you are less bothered about the cat and more interested in the ins and outs of the Vive experience we have the following:
You can also read about:
The Vive costs $799/£689. If you're based in the UK I'm not actually sure when you can expect a headset as the site indicates that pre-orders will start shipping in May rather than this month but the US option has no such restrictions so my educated guess for those of you who live in America is "soon".