New Humble Bundle features Zeno Clash 2, Resi 4, Dead Rising and more
Zombies and cyborgs and more zombies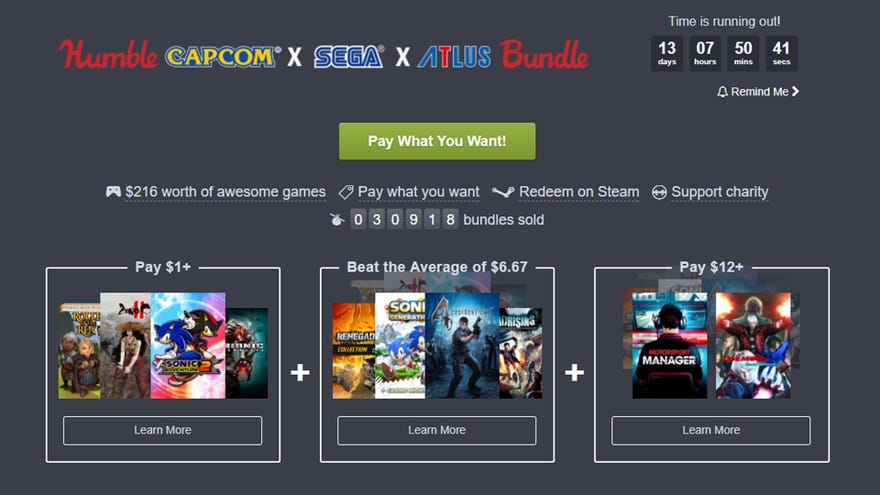 Humble is back with a brand new bundle - the Humble Capcom X Sega X Atlus Bundle which, for some reason, groups together those three publishers for one big bundle that offers you the chance to pick up games featuring blue hedgehogs, robot arms with stories to tell, FMV silliness, and a mall full of zombies, among other things.
Head over to the main site and you can drop some money on the bundle, with some of the proceeds going to charity as well.
Here are some thoughts on a few of the games included: Renegade Ops is a wonderful game that is a bit of a love letter to the 90s EA series of Strike games (Jungle Strike, Soviet Strike, and so on) that I've lost many hours too; Tesla Effect is the kickstarted revival of the classic Tex Murphy FMV series of games, which is silly, silly fun for point-and-click aficionados; Dead Rising is the recently released HD'd up version of the game that stole almost its entire plot from George Romero; Bionic Commando stars Mike Patton (singer from Faith No More) as a dreadlocked fella with a robot arm and grudge - he swings on things and punches people.
Here's what your money will get you:
Pay what you want
Rollers of the Realm
Zeno Clash 2
Sonic Adventure 2
Bionic Commando
Citizens of Earth
Pay more than the average
Renegade Ops Collection
Sonic Generations Collection
Resident Evil 4
Dead Rising
Tesla Effect: A Tex Murphy Adventure
Pay $12 (£9.04) or more
Motorsport Manager
Devil May Cry 4: Special Edition