Humble Indie Bundle 9 Is Go(od)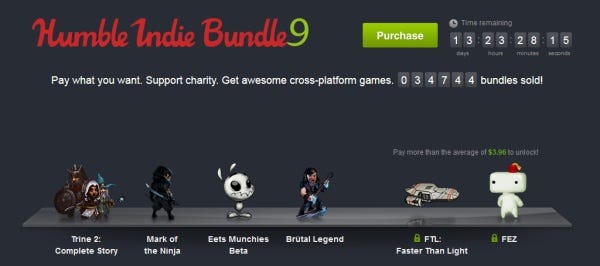 It's not Android games, nor soundtracks, nor books about kettles. The new Humble Bundle is the original, the Humble Indie Bundle 9. And for a ninth time in a row, it's a corker. With names like Mark Of The Ninja, FTL: Faster Than Light, and FEZ, you can see the dollar signs spinning already.
The full, very impressive list is: Trine 2, Mark Of The Ninja, Eets Munchies, Brutal Legend, FTL: Faster Than Light, and FEZ. And you already know they'll be adding in at least a couple more come next week. It's been going for half an hour as I write, and it's already sold nearly 36,000, with $147,000 made. Good heavens.
All games are PC, Mac and Linux, and all are DRM free. This one's going to be ha-uge.