Humvee manufacturer suing Activision over Call of Duty warcars
Legal rumble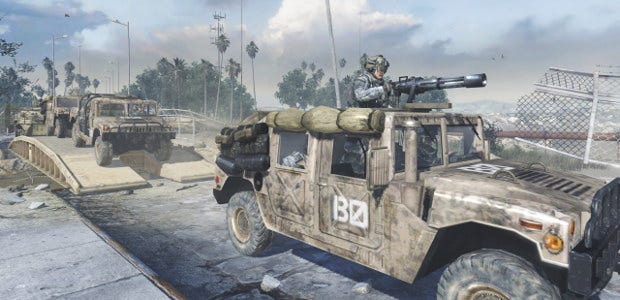 The manufacturers of Humvees are suing Activision over Call of Duty games featuring vehicles which, they say, look an awful lot like their own warcars. AM General claim that these Humvee-lookin' vehicles violate their trademark and Activision don't have permission, so they want CoD to knock it off and pay them damages. Their case pivots on several Call of Duty games, including Modern Warfare and Ghosts, featuring warcars which allegedly look close enough to Humvees to fall under their 'trade dress' -- a type of intellectual property covering what a product looks like -- and are sometimes called Humvees by name.
Humvees, I'll explain for people without an encyclopedic knowledge of military hardware, are military vehicles that have been used by the US Army and others for 30-odd years. If you've seen modern-day US soldiers driving a truck on TV, it's probably a Humvee. Wide, flat things. Like a wheeled tortoise wearing clunky spectacles. Here's a picture from Army Recognition:
As well as owning the name Humvee, AM General have trademarked what a Humvee physically is. Their 'trade dress' covers the overall shape of the vehicle as well as specifics such as X designs (sometimes) on doors, where mirrors are mounted, where special headlights sit, and where wipers wipers are attached - bits that, combined, broadly capture what a Humvee looks like.
AM General have licensed the Humvee name and trade dress to games before, including Homefront, but not to Call of Duty. AM claim that a number of CoD games include vehicles which look close enough to Humvees to violate the trade dress, and point out that several characters distinctly call them Humvees. AM are not best pleased with that.
They don't like the warcars appearing in licensed Call of Duty toys either. And they're not best pleased with actual real-world Humvees having been dressed in CoD livery during marketing events. Nor do they like strategy guides including screenshots of those vehicles while using the name Humvee. They also dislike games' EULAs claiming intellectual property rights to the game's contents, including those warcars AM think fall under their trade dress. And they're miffed about such vehicles appearing in marketing materials, including at the start of Modern Warfare 2's launch trailer:
All this amounts to "clear and unmistakable intent to infringe AM General's marks", they claim.
AM General say their lawmen found out about Call of Duty using Humvee-lookin' warcars in May 2016 and sent a cease-and-desist letter to Activision in June 2016. AM and Activision have had a little back-and-forth since then without resolution, so AM have called upon The Man to sort this out. They're seeking a jury trial, hoping Activision will be told to knock it off and pay damages.
Reuters reported this first but, if you're curious, Jalopnik have a copy of the full complaint.