Hurrah! - Neverending Nightmares, Hot Tin Roof Funded
Dreams come true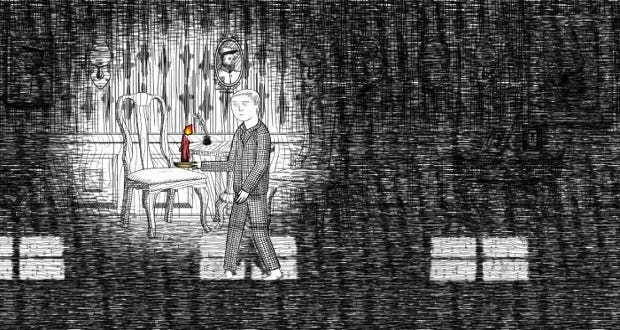 Kickstarter can be a nasty, brutish place to those who aren't prepared for its rigors, and even some of the best and brightest come away penniless at the hands of its fickle whims. That is why days like today are the very best, because three very promising-looking projects crossed the finish line with pleasantly jingling pockets. Each member of the trio - exceedingly personal (and video-able) horror tale Neverending Nightmares, noir sidescroller Hot Tin Roof, and permadeath adorable puppy survival trek Death Road to Canada - has fallen under RPS' searing gaze before, and each received a smile, a pass into the hallowed halls of our approval, and a really good cookie. Now, believe it or not, they have a chance at even better things.
Neverending Nightmares nearly didn't make it, only managing to clink the final required coins into its cup within its last 24 hours. And even then, it was initially the result of a numbers mixup on the part of a generous (but not that generous) fan. But now everything's sorted, and the equal parts gorgeous and unnerving black-and-white night of fright is en route to completion.
"I'm really on cloud 9 – not just because I succeeded but because there are so many amazing people out there (like yourself) that WANT me to succeed," said creator Matt Gilgenbach, who's basing the game on his real-life struggles with OCD and depression. "I am truly in awe of what wonderful people you are. I will get through this anxiety soon and make a great game for you everyone!"
Hot Tin Roof and Death Road to Canada, meanwhile, didn't encounter quite as much turbulence. That said, both look to be positively loaded with personality, and I'm very much looking forward to seeing where they end up. Hot Tin Roof's comedic noir shenanigans won't come strolling through our doors like a hot night's breeze in a sunny day's dress until late 2014, but Death Road is actually just around the corner. The Kickstarter mainly served to fill the game's randomized framework out with more options, surprises, and secrets. The most pertinent (and wonderful) example? This entirely possible scenario:
"Find a dog, teach it to drive. Have all the humans in your party die. Make the dog recruit other dogs until your band of survivors consists of 5 dogs driving a muscle car."
Beautiful.
So yes, it is a time for celebration. Soon, there will be more good videogames. We live in good times.