Bready Steady Go: I Am Bread Pops Out Of Early Access
Out the Early Access toaster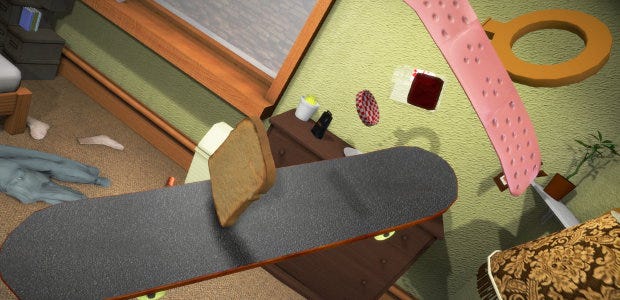 Your Morning Mate, they call it. Johnny Foamguts. Hedgehog Hell. Cleopatra's Sponge. Whatever you call bread - Jam's Friend, Billy. The Sticky Trick - you can now become bread - A Touch of the Brown. Grainbrick - proper real fully-baked bread - Hollywood's Trickshot - as I Am Bread [official site] has left the Early Access oven to sit on the shelves with the rest of Botham's Bane.
It's another difficult-to-control wacky physics game from Surgeon Simulator 2013 developers Bossa, this time starring a floppy slice of bread that's exploring levels on a mission to accrue exotic new toppings and become tastier.
The final jump from Early Access to launch has brought three new levels in the form of a tutorial, a petrol station, and a car. Oh, what zany antics will happen there! See, I Am Bread is a climb-o-exploration game about a slice of bread which can hold into things with each of its four corners. This lets it walk, run, leap, swing, and fling itself on chainsaw blades. The grand goal is to become more flavourful by rubbing tasty things on yourself or becoming toast. Really it's about wrestling with controlling something unusual and being silly.
I Am Bread will cost £9.99/12.99€/$12.99 on Steam, but a launch discount brings it back down to around the Early Access for a while, making it £7.49/9.74€/$9.74. It'd been in Early Acccess for four months. Here, have a launch trailer: