If Memory Serves: To The Moon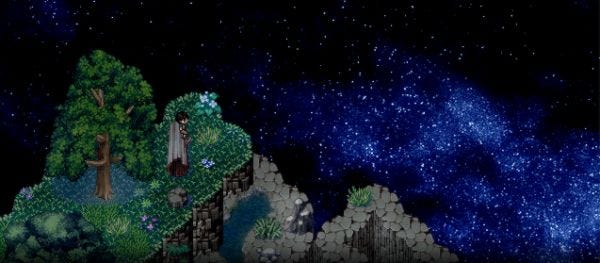 Here's what I'd like to see/hear. An adventure game whose music doesn't begin with a long strained note on a violin. Seriously, every single one does it now. Nothing wrong with it - I'd just like some variation. Joining their numbers is To The Moon - a sort of RPG adventure thing that attracted me by its excellent name, and then - as it happens - that the violiny music is from Laura Shigihara, she of the Plants Vs. Zombies theme.
From Freebird Games, it's a top-down 2D thingie that resembles Nintendo games of the 90s. Its plot sounds rather interesting:
"Imagine a world where doctors can rework your memory in order to grant your greatest wish… but there's just one catch: It will be the last thing you'll ever remember."
Huh?
"Join Dr. Rosalene and Dr. Watts as they enter a patient named Johnny's mind on his death bed to grant his final request. Watch, interact, and change the past as Johnny's life unfolds before you and takes you on a magical journey inside one's head that asks the greatest question of all: "What if...?""
Ahhh!
Yes, it looks super-cute and schmaltzy. But you know what? GOOD! I don't care! Everyone's setting everything on fire and the economy's about to implode. I want something cute and schmaltzy right now!
The game is due out in the Autumn, and I don't care what you think of me, I think it looks lovely.