Quadrilateral Cowboy scoops IGF Grand Prize
Good video games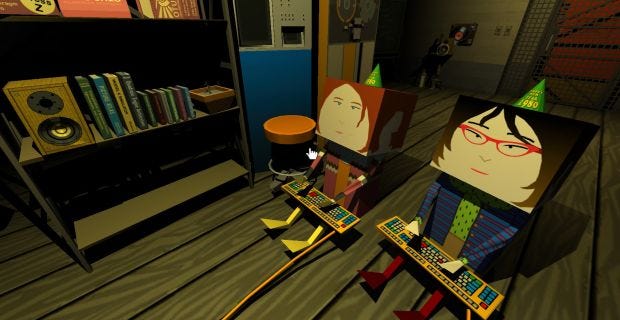 Hacking heist 'em up Quadrilateral Cowboy has won the Grand Prize at the 2017 Independent Games Festival awards, taking home $30,000 (and another $3,000 for winning the Excellence in Design award). The ceremony went down last at the Game Developers Conference, with other winners including Ladykiller in a Bind and Hyper Light Drifter. The IGFs may no longer turn up many huge surprises but they are a handy pointer for some good games you might have missed. As luck would have it, Brendan's first IGF episode of the RPS Electronic Wireless Show went up only last night, chatting with Quadlatcowbo creator Brendon Chung.
The Game Developers Choice Awards were also last night, right after the IGFs, but tch! you don't need them to tell you about the existence of games like Overwatch, Firewatch, and presumably other things suffixed 'watch'. Pokéwatch Go etc.
So! Your IGF winners for 2017 are:
Excellence in Narrative ($3,000)

Ladykiller in a Bind (Love Conquers All Games)

Excellence in Audio ($3,000)

Excellence in Design ($3,000)

Quadrilateral Cowboy (Blendo Games)

Excellence in Visual Art ($3,000)

Hyper Light Drifter (Heart Machine)

Nuovo Award ($5,000)

Oiκοςpiel, Book I (David Kanaga)

Best Student Game ($3,000)

Un Pas Fragile (Géraud de Courrèges, Alisée Preud'homme, Gregory Parisi, Gaspard Morel)

Audience Award ($3,000)

Hyper Light Drifter (Heart Machine)

alt.ctrl.GDC Award

Seumas McNally Grand Prize ($30,000)

Quadrilateral Cowboy (Blendo Games)
That's some good video games, and mostly familiar ones too. Graham told us Wot He Thought of Quadrilateral Cowboy, The Mechanic looked at Hyper Light Drifter, Adam told us Wot He Thought of Gonner, Kate Gray WITted Ladykiller in a Bind (when reading that, do note that the scene which sat uneasily with her has been rewritten), then I... mentioned Oikospiel, Fear Sphere we've not seen cos we don't have a giant sphere to get inside, and Un Pas Fragile has largely passed us by.
If you dig awards ceremonies, you can watch it all in two parts on Twitch. Do check David Kanaga's victory speech around 11 minutes in that second part, repeating his calls for a union of independent game developers.
A number of finalists, and several of the winners, are currently included in IGF sales on Steam and the Humble Store. Un Pas Fragile is thrown in free on Humble if you buy any of the sale games. As for Oikospiel, well, it's pay-what-you want on Itch anyway but you can get an official, sanctioned discount by visiting its website and waggling your mouse to turn a wind turbine to generate power to sell to the dogs.
[Disclosure: I know several of the winners in ways minor and vague enough to have generated no interesting anecdotes. I once carried Brendon Chung's Quadlatcowbo prop suitcase around for several hours to deliver it to him after showing the game at a Mild Rumpus. Any good? No? Sorry.]