I'm As Rad As Hell: Double Dragon - Neon
Nice Lee Done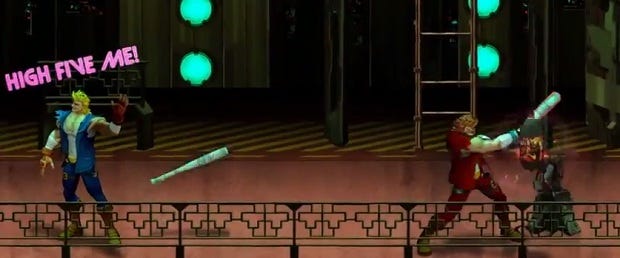 Double Dragon: Neon appeared on consoles in 2012, riding a skateboard and juggling nunchakus while spraypainting 'cowabunga' onto an abandoned subway train. Now, a trailer plucked from a less bleak version of 1984 brings news that the co-op side-scrolling brawler will be arriving on Steam 'soon'. The Blood Dragon of the Double Dragon franchise, Neon recognises the silliness of Billy and Jimmy's adventures, takes a look in the mirror, and laughs long and hard at its own reflection.
I like two player fighting games of this type and they're few and far between on PC, and indeed everywhere else these days. There are several important things to note about Double Dragon: Neon.
1) The lead villain is a super-luck called Skullmageddon.
2) During a scrap in the vacuum of space, one of the Lee brothers comments that his martial arts training allows him to hold his breath for long periods of time.
3) There is a high five ability and extra skills are discovered when the brothers equip mixtapes.