Warhammer Online: Autumn... No, Really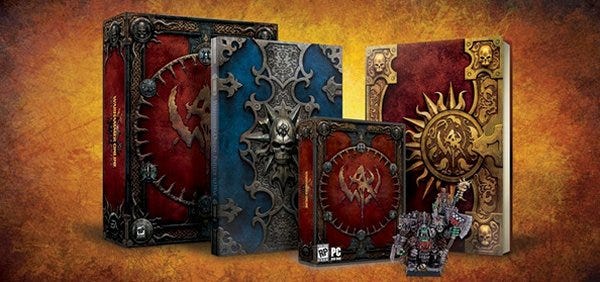 The Warhammer Online open beta can't be too far off, right? Well it might still be a few more months away, given that the game has now slipped to "Autumn 2008." Nevertheless, pre-ordering the retail version of the game commenced today at 3pm, or thereabouts, and it gets you a guaranteed beta slot. If you want to get a place in the pre-launch Empire then keeping an eye on the WO site is a pretty good idea. Pre-ordering also gets you a couple of rare in-game items, while the slightly more plush (and pricey and pictured) collector's edition will come with a unique Games Workshop figurine, a book filled with luscious artwork, a graphic novel, and - rather more importantly to the gamer - in-game quests that can only be undertaken by collector's edition owners. Not a bad little package.
After the jump, the full press release about collectors claptrap.

EA Mythic Unveils Warhammer® Online: Age of Reckoning™ Collector's Edition

The Ultimate Warhammer Online Experience Includes Exclusive Miniature, Original Graphic Novel, Bonus Quests and Rewards, Art Book, and More

FAIRFAX, Va.--(BUSINESS WIRE)--EA Mythic, a division of Electronic Arts Inc. (NASDAQ:ERTS), today unveiled the first details of the Warhammer® Online: Age of Reckoning™ (WAR) Collector's Edition. This premium, limited edition of EA Mythic's massively-multiplayer online role-playing game will be packed with bonus in-game content and unique collectibles unavailable elsewhere, including an exclusive Games Workshop miniature. Only 60,000 copies of the Collector's Edition will be available in North America, and those who pre-order the product will receive additional exclusives. The WAR Collector's Edition carries an MSRP of $79.99, and is available for pre-order in North America at Best Buy, GameStop, EB and GameCrazy retail stores, and online at GameStop.com, EBGames.com, BestBuy.com, Amazon.com, GoGamer.com and EAStore.com.

"Collecting has been a part of the Warhammer hobby experience for 25 years, and this special Collector's Edition continues the tradition with exclusive offerings, including an official Games Workshop miniature," said Mark Jacobs, VP and General Manager, EA Mythic. "We are bringing the quintessential elements of Warhammer - tabletop miniatures, incredible fantasy art, and delightfully grim fiction - along with exciting in-game bonus content, together in what is sure to be one of the premier Collector's Editions of all time."

The WAR Collector's Edition will include:

EXCLUSIVE GAMES WORKSHOP MINIATURE - GRUMLOK AND GAZBAG

From the Age of Reckoning to your tabletop battle! Based on original characters from the MMORPG and designed by Games Workshop specifically for the Collector's Edition, this official Warhammer metal miniature depicts the Greenskin warboss, GRUMLOK, and his shaman, GAZBAG, in rich detail. (Assembly and painting required.)

ORIGINAL GRAPHIC NOVEL - WARHAMMER ONLINE: PRELUDE TO WAR

The forces of Order and Destruction collide under the red Chaos moon! Commissioned exclusively for the Collector's Edition, WARHAMMER ONLINE: PRELUDE TO WAR is a full-color, 128-page hardcover graphic novel that sets the stage for the start of the game. Written by acclaimed Games Workshop writer Graham McNeill, the oversized book is richly illustrated by Chad Hardin, Joe Abraham, Rahsan Ekedal, Tony Parker, and Kevin Hopgood. Each of the graphic novel's six chapters tells a unique story about the armies in the game, and together they detail the events leading up to the Age of Reckoning:

ART BOOK - THE ART OF WARHAMMER ONLINE

A stunning collection of art that gave birth to the Age of Reckoning. THE ART OF WARHAMMER ONLINE is a 224-page hardcover collection of original art from the game. Each of the glossy, full-color pages showcases the talented work of our concept artists and offers a glimpse at a world in the making.

BONUS IN-GAME ITEM - THE LIBRAMS OF INSIGHT

Wisdom is its own reward. Readers of the Librams of Insight are granted special insight into their own actions and earn experience at a higher rate for a limited time. (XP-gain modifier for 60 minutes, 3 uses, 90 minute reuse timer.)

BONUS IN-GAME CONTENT - QUESTS, REWARDS, AND TITLES

New adventures and just rewards await players on the battlefields of WAR! Purchasers of the Collector's Edition will begin their adventures in the Age of Reckoning with twelve (12) bonus quests awaiting them in their Tome of Knowledge. Each quest offers an exciting in-game reward, as well as a unique character title, to those that complete the challenges before them.

BONUS IN-GAME CONTENT - CHARACTER HEADS

Stand out in a crowd with a look unlike anyone else's! The WAR Collector's Edition includes twelve (12) bonus heads for additional character customization options. Each race gets a truly distinctive look (with male and female versions) that is sure to turn heads on the battlefields and be the envy of everyone in the army.

As an added bonus, players who pre-order the Collector's Edition will receive two exclusive in-game items, guaranteed access to the Open Beta, and special early access to the live game.

For more information about the Warhammer Online: Age of Reckoning Collector's Edition, the bonus in-game content, and the North American pre-order offer, visit www.warhammeronline.com/collectorsedition/. For information about the European Collector's Edition and pre-order program, visit www.war-europe.com/collectorsedition/.

Based on Games Workshop's epic and longstanding tabletop fantasy war game, Warhammer Online features revolutionary Realm vs. Realm™ (RvR) gameplay that immerses players in a world of perpetual conflict. Warhammer Online: Age of Reckoning is scheduled for launch on the PC in the Fall of 2008.