IndieCade Awards And Alternatives
The PC brigade at the IndieCade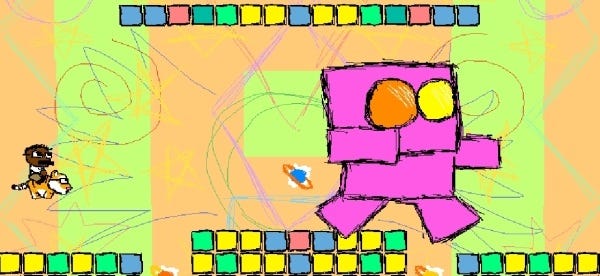 I spent the weekend in a haunted watermill, which was pleasant and all, but I would rather have been at the Indiecade festival, battling inanely with invisible weaponry and rearranging boxes with strangers. The whole thing is done with now and that means it's time for me to take a look at the winners, some of which I'll cast no more than a sidelong glance at because they aren't coming to PC. Last time I spoke about IndieCade I named my pick of the entrants as Proteus. Read on to see if the judges paid attention to my words and for a PC-centric awards ceremony of our very own.
The Grand Jury clearly weren't listening to me, let's make that clear right off the bat. Their grand prize went to Fez, which seems to have been winning prizes since the late Edwardian era and yet still remains unreleased. Added to that, when it finally does come out it's going to be an XBLA exclusive. Boo. Fez also won the prize for story/world design, which means I'm going to have to announce my own PC-friendly story/world design winner at the end of this post.
In the categories that did get a PC winner, we can be proud of the dangerously colourful Deepak Fights Robots, which somehow manages to have a soundtrack almost as intensely and dramatically odd as its visuals. Not quite, but its close. It wasn't the graphics or sound that won the prize though, the arcade platforming Bubble Bobble-alike won the prize for game design, proving in a world full of claret-sipping artsy games, it's still possible to get by with good old-fashioned mechanics and a martini glass full of hallucinogenics. John was dazzled by Deepak and you can buy the game now. Furthermore, at the time of writing, it is still reduced by 50% to $4.95 to celebrate the IndieCade. No idea how long that will last, obviously.
The Developer's Choice award went to Way. It's a co-operative game in which players must learn to communicate without words, using ragdolly characters with freely controllable limbs to gesture and communicate through the power of dance. Just like the youthful sorts at their discotheques. There is an alpha release available and it's one of the games I'll be taking a closer look at in the coming weeks. It's interesting to see how many of the entrants were co-operative games this year, with Johann Sebastian Joust and Ordnungswissenschaft, in particular, resembling theatrical exercises or playground activities. Those two, which are about physical exertion and certainly won't be on your PC, snagged three awards between them, including the big ones for 'technology' and 'interaction', respectively. Once again, I shall name my own choice of winners in those categories below.
Special Honors, distinct from the Unspecial Honors dished out at lesser ceremonies and to lesser men, were lavished upon The Swapper. While there is no final word on the platforms that one will be released on, but the developers have spoken of porting the game across to Mac and Linux from a Windows build, so I'll be shaking my fist if it doesn't end up on PC. The teaser trailer below makes it look like a multiplayer-only game, or at least it did to me, but I believe it's primarily a single player affair, with a puzzle-solving mechanic based around switching (or swapping, if you will) into the bodies of clones. It certainly looks and sounds very atmospheric.
In a show of fine taste, the visitors to the show gave the Audience Choice Award to The Depths To Which I Sink, which is about navigating 3d spaces, just like real life. The difference is that in the game, you are nothing more than a purple dot and that's hopefully not true in real life. There are four demo levels newly available and if you have some 3d glasses this is well worth your time. If you don't have any 3d glasses, it really isn't, because it will just look odd and troubling. I've just tried it out using some future-spectacles of my own and it really is very clever, and this is coming from a man who disdains the use of 3d in cinema in a Kermodian fashion.
And then there's Proteus, the game that creates worlds and audio dreamscapes to accompany them. I'll be covering it in more detail soon but, suffice to say, it received an award for its sound design. Not the grand prize I would have given it, but nonetheless, it's a sign that people are, quite correctly, paying attention.
So here's my PC-only field, based on my limited knowledge and obtuse tastes.
Visuals: The Dream Machine, for looking beautiful and like nothing else around.
Game Design: Desktop Dungeons, for consuming days of my life.
Technology: The Depths To Which I Sink, for making me enjoy 3d glasses.
Story/World Design: BasketBelle, for making a basketball court into a biography.
Audio: Proteus, because I have to agree with the organisers on something and I love that rainfall is musical.
Interaction: At A Distance, because it relies on the festival space to become an intriguing three-way conversation between players and designer.
I don't have a Grand Jury, just myself, so that's the lot. More on my favourites as soon as I can bring it to you.