Awite Guvner! Get Yer Indie Games 'Ere: IndieGameStand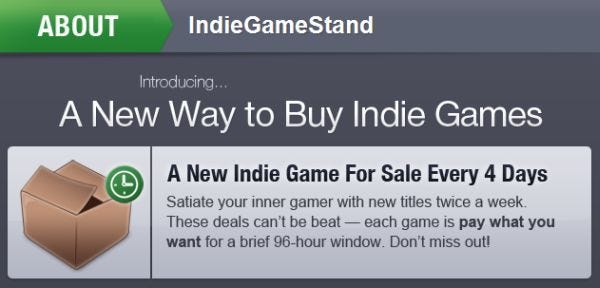 I don't think it would be an exaggeration to say that there are 350 billion new ways to buy indie games announced every minute. It's a brilliant time of experimentation, from the strangest to the most controversial, as an essentially un-organised industry attempts to learn what shapes it can be in. The latest new idea is IndieGameStand, from the people at Indie Games Mag (I'm just guessing with spacing at this point), and it works something like this...
Thanks for following me down here.
So, what you've got is a shop that sells one independently developed DRM-free game at a time, at a price of your choosing. A game gets four days in the pay-what-you-want throne, until it is disposed by a new title. But once something's appeared, it goes into another section of the site where you'll find details for buying it directly from the developer. Oh, and 10% of every purchase goes to a charity of the developer's choosing. Pay less than a dollar and you won't get Steam or Desura keys.
So it has all the required ingredients. No DRM -check. Money to charity - check. Peculiar lengths of time for things to be on sale - check.
Should you have missed a game, there's a brief chance to still get it, but buying a "bundle". This consists of the current game, the previous one, and the unknown next one, and er. I'm not sure how you pay differently for a bundle of something that's pay-what-you-want in the first place, but I'm sure that will come clear soon. Another nice detail is games you've bought will be remembered by the site's "wallet", and there to download again whenever you want. And since they're DRM free, you can back them up however you like too.
I like it! It'll be interesting to see how they go about choosing what game comes next. Their stated incentive is,
"to put a spotlight on those indie titles which provide fantastic experiences, but may have been passed over by the mainstream gaming public, portals, websites, or whatever. This site is about supporting all of the fantastic and worthwhile indie developers out there. Every developer out there deserves a moment to shine."
I'm also interested to see how they will remind people to check back on such a neither-here-nor-there time period. That I think will be the trickiest part, I expect, with four days being a bit of an odd length of time. We don't have long to wait to find out - the new store launches on the 26th September, and until then is testing itself by offering the platformer Chester for free when you create an account.