Insane In The Membrane? Cell: emergence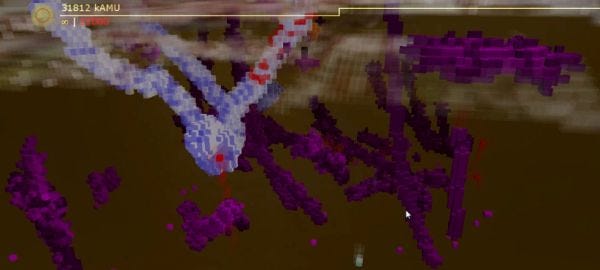 You may remember that a few months back we told you about Cell: emergence, the extremely peculiar-looking game from Deus Ex writer Sheldon Pacotti's indie team, New Life Interactive. The fantastic voyage is a pixelly exploration of cellular defense, that looks equal parts fascinating and bemusing. Referencing classic games like Defender and Missile Command, and alluding to RTS themes, the experimental project asks you to protect a membrane via manipulation of the medicinal voxels. I'd suggest that watching the video below might explain things better, but I'm fairly sure I know less about the game having watched it. It's something we need to play to get our heads around, and the good news is it's out on the 9th Feb, via GamersGate, Impulse, Green Man Gaming, Playism and Desura. And there will be a demo on Tuesday.
Here's Pacotti explaining how the game plays from a video last year.
It'll cost $8.95 on PC, which will be a superior version to that released on Xbox Live, with better sound and "more frenetic gameplay" designed to work better with a mouse/trackpad than a controller.