It Didn't Dragon: Kingdom Come: Deliverance Funded
Olde Worlde Money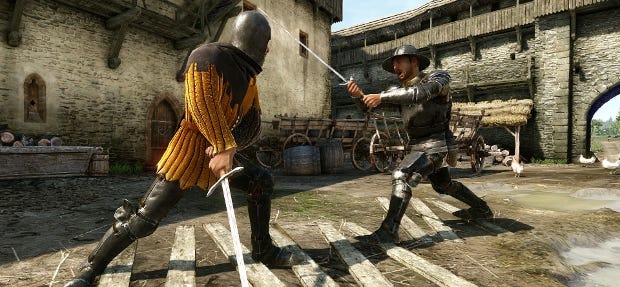 Nathan's excitement over Kingdom Come: Deliverance, a realistic open-world medieval RPG, has translated to Kickstarter success. The project is now funded, defeating the dragon (£300,000 funding target) with a swinging blow after only three days. With 27 days still remaining, they might be able to buy their own castle.

I've had a busy week, so this is actually the first time I've looked at Kingdom Come. I can see why people are tossing money their way, but I really hope some of it is spent on better voice actors. I wonder if there's call for a sort of targeted Kickstarter, where you can specify how much of your money is spent on different parts of the game? John would hate it, but I'd definitely be buying into the VO budget and emailing the developers IMDB pages of reliable old English actors. I'll bet a few actors from 'Allo 'Allo could do this sort of thing without breaking a sweat.
A quick look at the spread of payments shows that seven of the 10 top tier (£1200) packages have been sold, and all 50 of the £600 level pledges (the one where you get a sword) are now gone. Did you pledge? And are you now preparing a spot on your wall for sword?