Jettomero: Hero of the Universe stomping over planets
So pretty!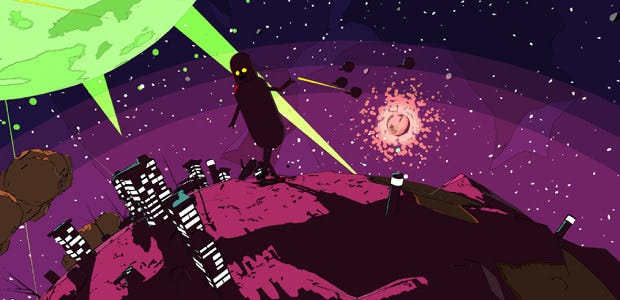 Let's pause for a second to appreciate that ↑ screenshot of a giant robot toddling along on a little planet. That's a fine-looking video game, isn't it? It's Jettomero: Hero of the Universe [official site], a newly-released stomp 'em up about a robot who rockets from planet to planet, accidentally smashing through cities as it tries to save humanity. John took a little look at Jettomero in Unknown Pleasures last week but I'm pointing out it again because mate, did you see that screenshot?
Jettomero is a honking great invulnerable robot who stomps around planets fighting tanks, UFOs, and other baddies while apologising profusely for destroying cities. Occasionally, Jettomero will find a nasty big robot to fight, which take place in a short series of quicktime events then are followed by a little decryption puzzle to unlock comic strips revealing story snippets. But mostly, Jettomero is stomping around procedurally-generated planets then rocketing off to new ones.
For all the explosions and botfights, it also seems a great game for pottering around pretty planets, admiring the sights and taking screenshots. It does have a built-in photo mode to aid snapping too. Capture your rampages or simply share a sunset.
Made by Ghost Time Games, Jettomero: Hero of the Universe is out now for Windows, Mac, and Linux. It costs £9.99/€12.99/$12.99 on Steam and Itch.
I'm reminded a little of leaping between colourful planets and being a nuisance in Ditto's Planeter. Sadly Ditto has pulled that from sale, but you can still see some of my antics in a video here.