Romero's Blackroom Kickstarter Cancelled Until Demo Finished
A sensible idea!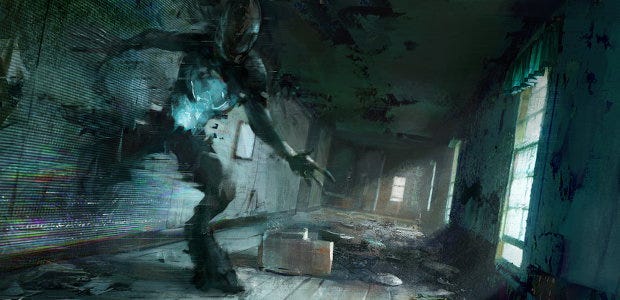 John Romero and Adrian Carmack have cancelled their Kickstarter for Blackroom [official site], four days after launching it, but will return once they've finished a gameplay demo. The pair of former id Software Doomlords and Quakers had pitched Blackroom as an FPS filled with all the good old stuff - circle-strafing, rocketjumping, secret rooms, a metal soundtrack, and all that - but only showed ideas and concept art. Which, yeah, isn't much for potential backers to go on. They're hopeful Blackroom will fare a lot better once people can see it a bit.
They were looking for $700,000 to make Blackroom, but at the time of cancellation had only $131,052 pledged. Night Work Games explain in an update to the Kickstarter:
"The team is at work on a demo which demonstrates the kind of gameplay, look and innovative, cool features that make BLACKROOM truly unique — the things we've waited years to put into an FPS and which make us incredibly excited about this game.

"There's a hitch here, a hitch that's making us do something that's right for the game, the team, and the community: we're pressing 'PAUSE' on the fundraising campaign for BLACKROOM to complete this gameplay demo. Simply put, this will take more time than the Kickstarter has left, so we've decided to suspend the campaign and launch a new one when the gameplay demo is ready. We believe, however, it is the right choice. We know you do, too. Thanks to your feedback, we know we should have included it at launch.

"To all of our backers: your support has been incredible and valuable. We will, of course, honor backer achievements in the next campaign (and an extra something for those of you who continue to support us in the next campaign)."
Blackroom is to be a singleplayer and multiplayer FPS with the conceit of a holodeck-type doodad simulating a whole range of worlds and monsters. Night Work Games call it "a visceral, varied and violent shooter that harkens back to classic FPS play with a mixture of exploration, speed, and intense, weaponized combat."
Romero told Develop that they expect to finish the demo within a month or two, then will launch a new Kickstarter with the same goal. Romero this week released a new Doom level to prove he can still make cracking levels, but evidently that's not enough to make enough people part with their money. A gameplay demo is a very sensible idea; I am quite keen to see it.