Jump Around: Plain Sight Reviewed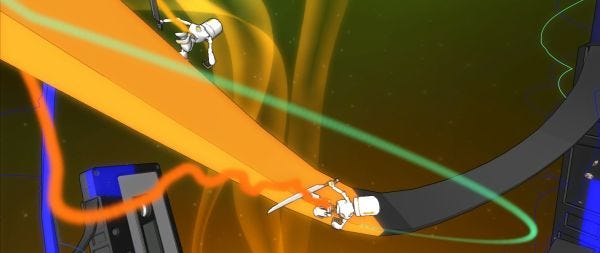 Jump! Jump! Hot on the robo-heels of RPS's interview with Plain Sight developer Robin Lacey, my Eurogamer review has just gone live. For those of you squatting in the mossy swamp of ignorance, here's an excerpt:
Understand that Plain Sight is a multiplayer indie game for PC, available on Steam, about murderous, explosive, acrobatic robots battling one another with katanas in a web of gravitational fields. It's part flight sim, part Jedi Knight, part vertigo-inducing spectacle, part experiment and all risk-reward. What kind of a monster would go and break apart a game like that to say whether it's worth buying? You might as well dissect a woman to determine that yes, she has healthy kidneys and firm, spongy lungs is therefore probably worth going out with.
Kieron informs me this is the "Patented Gillen Dating Method", but you're probably best off not thinking about that and just reading the rest of the review instead. I get quite excited.