Just Cause 3 Patch Cutting Load Times Ahead Of DLC
A ruddy jetpack!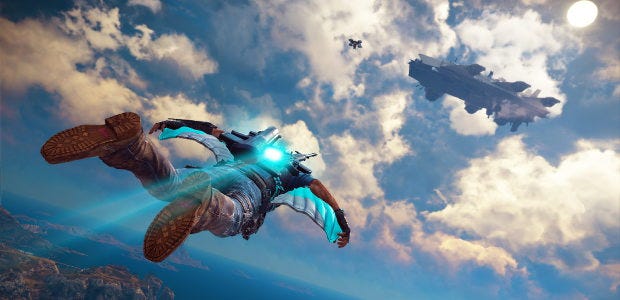 Just Cause 3 [official site] will be ready to blast off with a cracking-looking rocketpack in the Sky Fortress DLC on March 8th, Square Enix announced today, though only folks who pay for all the DLC up-front in the Season Pass will get to play then. Folks who'd buy it separately will need to wait until the 15th.
On the bright side, a free update is coming for all and sundry tomorrow, bringing performance improvements, faster load times, and more fine things.
The big features of the update due on Friday are:
Reduced initial loading time and in-game loading screens by 20-50%
Fixed several memory leaks resulting in crashes
Reduced a number of random crashes
Improved streaming of game world
Some performance optimizations related to hitches and stuttering
Implemented DLC system in preparation of the Air, Land and Sea packages
The new 'Bavarium Wingsuit' looks absolutely swell, to be clear, with rocket packs and auto-targeting rockets turning Rico into some kind of meaty Iron Man (Chopped Liver Man?). And the wheeled mech coming in the second DLC sounds fun too, from the little we know. But my grumbling about the delay is sparked by: this isn't to reward people who trust in Square Enix and Avalanche Studios; it's to punish people who don't.