Just Release Assassin's Creed, Not Six Different Versions
The Bloody Confused Edition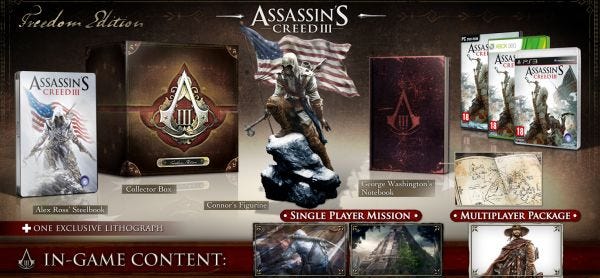 There is certainly a long list of things we grumble about when it comes to game releases these days, from day one DLC to whichever mad choice of DRM accompanies, but they can all pretty much be summed up in one statement: Just release the game. It would make every gamer so much happier. And on that list is when games release themselves in different versions, with different in-game content. So that makes the six different versions of Assassin's Creed III (the game itself) not only confusing, but pretty annoying. Especially when it's a game that's looking so great.
I want to stress, I'm not talking about a game also offering a special edition with a few physical bonuses. I think those can be great. If you're excited enough to fork out £80 for a game that usually costs £35, because you want some limited edition figurines, art books and maybe a soundtrack, then fantastic. Collector's Editions, as they used to only ever be called, fitted exactly that premise - they were something for those who love to collect, an especially nice presentation box filled with goodies. But the line is drawn where that version contains a different game.
A trailer released today shows what appears in a special edition version of the game, for PC, 360 and PS3, exclusively sold in GameStop: the Freedom Edition. It comes with some lovely silly bonuses, like George Washington's notebook, a figurine of Connor, and a lithograph, all in a collector's box designed by Alex Ross. Stupid to limit it to one store, obviously, especially one without a strong international presence. But the issue lies in its also containing an exclusive in-game single-player mission, Lost Mayan Ruins. You can catch a glimpse of it here:
Except, um, it's not exclusive to GameStop really. Sort of. That extra mission, Lost Mayan Ruins? Despite the claims it's also listed as being available with the Limited Edition, only on consoles. Freedom also has another bonus single-player level, Ghost Of War, that's also in the Join Or Die Edition, and the PC's Digital Deluxe collection. There's also the Sharpshooter multiplayer pack, which gives you an exclusive MP character, along with baubles to go with him. But you'll also get that with Join Or Die and Digi Deluxe too. But, er, pre-order either of the two cross-platform specials at GameStop and you'll also get the Red Coat Multiplayer Pack, which adds a new MP character (the Red Coat), an extra relic, emblem, picture and title.
The statue of Connor can also be picked up by console players in what's known simply as the Limited Edition. Georgie's notebook? Well, you could also look out for the Digi Deluxe, and that Join Or Die Edition, on all three platforms, which also has Ghost Of War, but not Lost Mayan Ruins. And in Join Or Die you also get Connor's medallion, which isn't available anywhere else.
But you want the Second Edition Encyclopedia? Well then you'll have to buy the UbiWorkshop Edition instead, whatever that is. With that you'll also get a graphic novel called Assassin's Creed: Subject 4, available with nothing else. Oh, I missed one. There's also The Special Edition. It also has a single-player mission, A Dangerous Secret, which results in a unique weapon, the Flintlock Musket. Oh, and I've just discovered that the Digital Deluxe version also has A Dangerous Secret, despite the claims of its exclusivity elsewhere. And, er, yet another level, Cozumel Island, giving you Captain Kidd's Sawtooth Cutlass. I've not spotted that listed with any other bundles, but God knows.
And if you were to just buy the vanilla Assassin's Creed III, what would you get? The game minus all three extra levels, the multiplayer extras, and the accompanying weapons and specials.
Oh come on.
With a release date of 31st October, I find it hard to believe we won't hear of some more little exclusives along the way - a special glint on your sword if you pre-order it from Steam, but then cancel and actually buy it from Gamestation. Or seventeen different endings if you catch someone pirating it.
It's worth noting that the PC versions of the various packages are FAR better value than the consoles. Where the console's Freedom Edition will cost a whopping £80, the PC's is set considerably lower at £60. And the Join Or Die is currently set at massive £65 for consoles, but for PC is RRPd at, er, the regular price of a game - £35. (Although GameStop are pushing their luck and charging £40 for the honour, while the UbiShop sticks to the recommended price.) And that Digital Deluxe edition, that comes with three of the four extra levels, two other "single player packs" that offer skins and weapons, and both mentioned MP packs, but obviously none of the physical content, comes in at a slightly more daunting £50. The notebook is in PDF form with this one.
The vanilla version isn't even available to pre-order via UbiShop, while elsewhere you'll end up paying the same as the Join Or Die edition, and indeed the Special Edition, also at £35. It is just BEWILDERING.
Ubisoft - we love that you're creating all these fun physical extras, but this has gone crazy. Why build levels that only a subsection of players will get to see? Why do I have to choose between a Special Edition with the level A Dangerous Secret, or a Join Or Die Edition with Ghost Of War and a toy medallion, both the same price? How am I supposed to know which level I'll want more? Are either important to the game's overall story? Am I expected to buy both? And what about Lost Mayan Ruins? That's not available in any of the PC packs. Do I need to play it? Am I supposed to get the console version then? But then I wouldn't get the PC-only Digi Deluxe's Cozumel Island. OH JUST SELL ME YOUR GAME!
This is damned silly. Especially with the inevitability that all of them will appear as pay-for DLC within weeks of release, making the whole thing an utter farce. It isn't helping anyone, and I flat-out refuse to believe it's helping sales. It only serves to confuse people who actually want to buy the game, leaving them wondering what they're missing out on, rather than what bonuses they're receiving. And surely that's the opposite of the intended goal?