Kasketball Is Basketball With Cars, Obvs
Not coffins or anything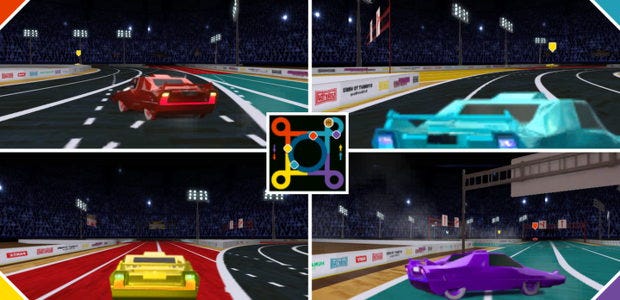 Kasketball [official site] looks broadly like Rocket League with basketball, though with fewer rockets. It's a four-player local multiplayer basketball 'em up where, er, you race around in a car and dribble the ball with one hand out your window as you speed towards your a net and pull the car into a drift to shoot. Sounds splendid, that. I don't think you can dunk, mind.
Alas, I've recently moved and am without the usual giant tangled ball of Xbox 360 controllers I usually keep at hand for local multiplayer antics. If you have a few controllers and pals nearby, though, you can grab it from Itch to play for free.
Kasketball is a simple enough game: four competing players are in cars on a track, racing to gather the ball then deliver it safely to their own netzone, where they need to hurl it at their net with a mighty drift. Once you've scored, to turn around you'll need to reach out and grab the hand of another player for a high-five swingaround. That's almost definitely how cars work. First to six wins.
ThirtyThree Games made Kasketball for the recent MADJAM Unity Jam, where it placed second.
Please, someone play this game and show me. Without a controller, I could only stare longingly at the player select screen. Oh, I do wish I could show you more than this ridiculous animated gif: