Kickstarter Katchup - 25th August 2012
Crowd Saucing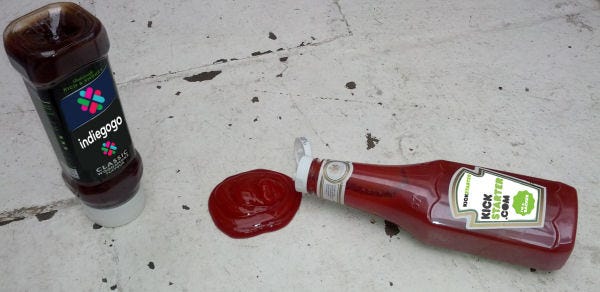 The loser column is sadly busy once again this week, with no winners we've been following. But as usual there are a lot of other Kickstarters in progress, and a bunch of new ones. Don't forget to note the rules below, and the next person who writes "Why no love for..." in the comments is going to be buried on the moon. Have a great Saturday!
The Rules
Featuring a game in this list doesn't mean we endorse it. We likely haven't played, and as such can't say whether it will be worth your cash. That's your call.
Letting me know about a game (which you can do via my name above) doesn't mean it will definitely be included. Leaving links in the comments is a good way to let other readers know about projects, but please email me if you want them considered for the list.
We only include games where pledges reach developers if the target is met.
Projects that have reached their funding get included in the Winners list, and then aren't featured after that, to give more attention to those that are still needing the cash.
Staff must wash their hands.
The Winners
You're all winners.
The Losers
Aw, shame, this one looked interesting. Really odd pattern with the money, too. It sped its way to $15k of the 25 it needed, and then just stalled there for weeks.
Pursuit Of Power 2 - Precision Games
The first project I ever saw lose money over the course of a week, this RTS never took off, only raising a sad $712.
I wonder how much had to do with the violin strings video, that forgot to push the game. A shame to get over halfway then stall, of course.
The Players
Broken Sword: The Serpent's Curse - Revolution Software
Goal: $400,000
Now: $203,430
Days: 28
Obviously the big headline in Kickstartering this week is the announcement that Uncle Charles Cecil is raising funding to complete a Broken Sword 5. Absolutely incredible to see half the money raised after just 36 hours, you have to imagine some stretch goals will be appearing soon. And the video is superb:
The Other Brothers - 3D Attack
Goal: $50,000
Now: $24,522
Days: 4
An episoodic family platforming adventure game thing, in yet more retro pixels. It does look absolutely lovely. $15 pledges are needed for a copy this Winter, but there are only four days to go and despite $5k arriving this week, less than half the goal raised.
Goal: $10,000
Now: $5,511
Days: 13
Chilean developers Syrenaica are developing a puzzle tower defence game that is unavoidably similar looking to Plants Vs. Zombies, but seems to be twisting things by adding puzzle elements to play. $10 gets you the game on your chosen format, maybe by Jan next year.
David Crane's Jungle Adventure - Jungle Venture
Goal: $900,000
Now: $20,337
Days: 21
Creator of Pitfall, and co-founder of Activision, David Crane, is making a new game. And apparently the team have gone insane and are asking for just shy of a million dollars. Yes, huge name, yes, he created some of the best loved games a million years ago, but this isn't going to happen. They've made a decent $6k this week, until you realise that's 0.67% of their total.
Expeditions - Conquistador - Logic Artists
Goal: $70,000
Now: $35,213
Days: 18
Wow, $18k raised this week! Danish dev Logic Artists' tactical RPG-cum-strategy is driven by its 16th century Spanish storyline. It's packed with hexagons and history that so many RPS readers love. They're now halfway there, with just over half their time left. And finally some enthusiasm in their updates!
The Epic Space Game - Edward Melville
Goal: $20,000
Now: $258
Days: 27
A top-down 2D shooter, that's also a sandbox MMO, and space trading game. This is one of my favourite things about Kickstarter - it's basically allowing for every mad genre cocktail to have an opportunity to be explored.
Goal: $30,000
Now: $4,366
Days: 6
A top-down action adventure RPG, in which you play a baddie with an unfortunately propensity for destroying worlds rather than conquering them. This is his last chance, as you attempt to explore and puzzle your way to world domination. Only $500 was raised this week, so things aren't looking too likely here.
Mercenary Kings - Tribute Games
Goal: $75,000
Now: $62,206
Days: 19
Another $20k pours in for this retro pixel 2D action game. Focusing on co-op, and looking explodey, $15 gets a copy, probably in May next year.
Dominique Pamplemousse - Deidra Kiai
Goal: $9,500
Now: $4,626
Days: 7
It'll be a shame if this doesn't double its pledges in the next week. A stop-motion musical detective adventure. In black and white. It's one of the most esoteric projects I've seen in a while. Take a look at the video to see exactly just how strange this is.
Planetary Annihilation - Uber Entertainment
Goal: $900,000
Now: $736,044
Days: 21
Hmmmmm, does anyone want any more Total Annihilation by any chance? A gobsmacking $325,000 raised this week. A third of a million dollars! That's all the rest of the Kickstarters here added together (probably - I'm far too tired to work it out). As insane as a $900,000 goal might look, they're going to reach it. From former Total Annihilation developers, it's a project people have been gagging for for a decade. The video for it is great, and already shows a fantastic-looking game. They want to see massive battles, we're assured.
Shadow Remnants - Shorebound Studios
Goal: $75,000
Now: $8,155
Days: 6
This don't look promising at all here. A turn-based tactical RPG, looking like it was developed for Gamecube (please understand that's a good thing). You can see a ton of footage in its pledge video on the site. It looks lovely, but I doubt it'll raise its funding by next week.
Wings: Director's Cut - Cinemaware
Goal: $350,000
Now: $35,105
Days: 16
There's clearly a lot of enthusiasm for this, but not the matching cash. Despite a very decent $7k added, it's only a tenth of a very, very high goal. The 1990 Amiga game is clearly fondly remembered, and the plan is to create an HD remake. Thankfully they've cleaned up their project's front page, so it's no longer a mess of updates (although there's a panicked message begging you to check them anyway!). Unfortunately the video's presenter still hasn't quite finished getting dressed.
Flight Of The Wisp - Shane Barber
Goal: $10,000
Now: $2,737
Days: 11
In this game you're a ball of energy that takes on the nature of other elements in the game. Go through mist and you're that, for instance, all used for solving puzzles. It's a really smart idea, and have a listen to the excellent music. Just $500 added this week, after a thousand the week before. But then, they can't be bothered to update their own project, so it's not surprising no one's bothering to update their pool of cash.
Goal: $15,000
Now: $1,841
Days: 13
21st century farming! Or as the KS page says, "A true Epic RPG about a group of farmers". Clearly made to fill the gap left by the lack of Harvest Moon releases. Watch the video, just to see the brilliant turns to camera.
Island Forge - Potential Games
Goal: $4,000
Now: $600
Days: 26
I'm bemused that this one isn't getting more money! It looks really interesting, and there's already an alpha to play, but only $250 appeared over the week. The idea is to tell your own tales within the game for other people to experience. The game already exists, with player islands available to see. He's only after $4k, and pledges will unlock an account for the game to the full version for various lengths.
Goal: $48,000
Now: $54,643
Days: 6
The original creator of the very popular and very old roguelike wants to resume developing the game. And it seems everyone else does too, with this well over its goal. There haven't been updates since 2002, but it looks they will be again now.
Project Gianna - Black Forest Games
Goal: $150,000
Now: $110,550
Days: 6
Gosh, they're cutting this fine. $30k raised this week, after $15k the week before, and $12k the week before that. But now there's less than a week for the final $40,000. It seems possible, but ooh, it would be cruel if it didn't happen now. A group of former Spellbound developers look to make a serious sequel to 1987's The Great Giana Sisters. Originally a Super Mario knock-off that was forced from sale after Nintendo pointed out that it was basically their game, this remake looks nothing like Nintendo's game, with a unique (and gorgeous) look, and a world that can be "twisted" to transform it. A copy of the game in the Autumn comes with the $10 pledge. Importantly, there's now a demo.
Goal: $15,000
Now: $1,716
Days: 14
Aiming to be a very moddable online tactical RPG, the game will come with all the tools to create your own content for the game. So once you're done with the official game, you can play other people's creations.
Insurgency 2 - New World Interactive
Goal: $180,000
Now: $59,816
Days: 13
This is feeling pretty cruel at this point, watching a sequel for one of the most popular mods ever just not moving toward its goal. Stalling around $50k for weeks now, lots of press coverage doesn't seem to be budging people toward funding. Really, really odd that this hasn't been snapped up right away.
Goal: $30,000
Now: $28,219
Days: 17
Again, I'm not really sure what people are waiting for here. Ice Pick Lodge, the creators of Pathologic and The Void, want to make a 2D platformer - that's when you just tip up your bank account and pour. It'll definitely get there, probably by next week, but I'm at a loss as to why this isn't already over $100k.
Goal: $300
Now: $547
Days: 25
He only wanted $300 for this top-down arcade shooter. He's already got $547. It strikes me as entertaining to just keep giving this 18 year old more money than he needs.
Kickstarter Indie Bundle - Kickstarter Indies
Goal: $45,000
Now: $5,657
Days: 4
An indie bundle in reverse. The idea here is to pledge money to help nine indies finish their games. Various pledge levels reward you with full copies of their previous games, along with all these games when they're done. $20 will net you the lot. It'll definitely not make it, which suggests that this isn't the direction for indie bundles.
Eternal Fate - Escalation Studios
Goal: $200,000
Now: $12,597
Days: 6
Two gaming vets, who've both worked at id, Bethesda and various other companies, have started a small indie studio intent on making an online action RPG. They describe it as a combination of Torchlight/Diablo and Call Of Duty/Battlefield. But they asked for $200,000 for an unknown property, and it doesn't look like people were interested. Six days remain to raise nearly $180,000. Doesn't seem likely.