Kickstarter Katchup – 27th January 2013
Acts 26:14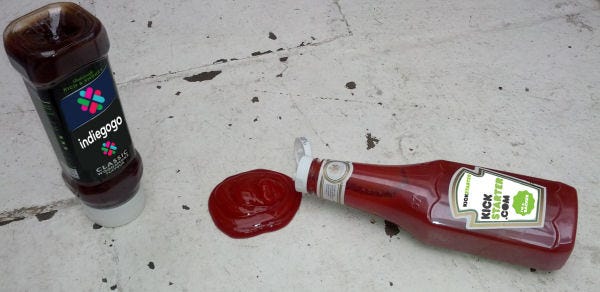 This week, spaceships are constructed, nobody loses and the Katchup features an open source 3D engine Linux port, which certainly sounds like the sort of thing that should be happening but also makes me realise how little I know about the availability of engine licenses and the complexities of game development. Maybe I'll ask Jim to teach me, although I reckon most of his input on Sir, You Are Being Hunted involves polite requests for 'more robots and tea'. A belated mention for Radio The Universe as well, which shot past its funding goal last week and looks excellent.
The Rules
Featuring a game in this list doesn't mean we endorse it. We likely haven't played, and as such can't say whether it will be worth your cash. That's your call.
Letting me know about a game (which you can do via my name at the top of this article) doesn't mean it will definitely be included. Leaving links in the comments is a good way to let other readers know about projects, but please email me if you want them considered for the list. Include the word Kickstarter in the subject line too if you care about making my life even slightly easier.
We only include games where pledges reach developers only if the target is met.
Projects asking for fifty billion dollars, with 45c in pledges, fall off the list eventually. It gives more space for other games.
Projects that have reached their funding get included in the Winners list, and then aren't featured in the weeks after that, to give more attention to those that are still needing the cash. Tough if you don't like it.
Be aware that there are two currencies in play. Always check!
Do not tap on the Katchup's glass. Projects are easily startled.
The Winners
Goal: $30,000
Now: $36,131
Third time's a charm for Skyjacker. The funding will permit development of the Starship Constructor, a fundamental part of the complete space game, which is due for release in August. The Constructor features more than 100 ships and there is already a playable demo of the full game available.
The Losers
Nothing to see here.
The Players
Goal: $8,000
Now: $6,663
Days: 22
Atmospheric first-person adventure games are increasingly common, or at least it feels that way. Although set in an abandoned building rather than across an island, Homesick has some of Dear Esther's beauty, although it has puzzles to go with the narrative and scenery. The derelict building is the only setting, but it will be viewed in both the bleakness of daylight and through the scorched, oozing filter of nightmares, whenever the player character is inclined to sleep.
Port Torque 3D to Linux - GarageGames
Goal: $29,487
Now: $8,437
Days: 8
I suspect I'm going to be writing a lot more about Linux over the next twelve months than I have in the previous twelve years. There are many reasons to be optimistic for the system's growth as a gaming platform and this campaign could be a contributor, bringing across the Torque 3D engine, originally used in the Tribes series.
We want Linux to be a first-class citizen for game developers. We recently open sourced Torque 3D under the MIT license, and the first deluge of questions were about Linux compatibility. The move to open source Torque was something that the founders of GarageGames wanted to do over 10 years ago, but they also needed a business model for their studio.
The 90's Arcade Racer - Pelikan13
Goal: £10,000
Now: £7,911
Days: 21
Here's wot I said about this arcade throwback earlier in the week:
As is traditional in racing games, cars wot go fast will attempt to outdo one another but the nineties heritage means there will be blue skies above, aquariums at the side of the track and animatronic dinosaurs looming overhead. The funding will help to improve car handling, as well as providing time to complete two more tracks to add to the one that is already completed.
I expect we might be seeing some stretch goals soon. Speaking of stretch goals, there's an interview with Monaco designer Andy Schatz over at the Penny Arcade Report that is worth looking at. Here's a sample:
I'm really glad for the people that have been really successful on Kickstarter, and don't get me wrong, I really like the idea of free money, but I'm of the opinion that designing a game around a variable budget is a terrible way to design a game. To be frank, I think that stretch goals are total bullshit.
Goal: $30,000
Now: $18,647
Days: 21
Online, co-op monster-basher Artizens appears to quote phrases from several games - Shadow of the Colossus, Terraria, Super Smash Bros to name a few - but it's one of those rare games that I'm fairly sure I've never played an equivalent of before. The variety and intelligence of the enemies will be vital, and more information about combat is expected soon.
We'll be doing more updates on Kickstarter to dive into the specifics of some of the systems that aren't explored much in the video or page like how missions work, what levels are like, what makes our combat system tick, and what content you can expect in the summer alpha.
Goal: $25,000
Now: $2,560
Days: 24
Terminus takes its conceptual cues from Outpost but hopes to execute planetary colonisation in a superior fashion. With this and Unclaimed World, it's an exciting time for interstellar pioneers, although given Terminus' low target and planned November release, I'd be interested to see some early footage to go with the ideas. That said, there is a new video this week, which you can see below.
Fortis Rex - Ancient Realms Studios
Goal: $7,000
Now: $3,450
Days: 12
There's some new footage of the 'army-commanding RPG', which as I noted last week, looks like the closest thing to Mount and Blade since Mount and Blade: Hoof and Hilt. You can watch the video here. Currently, the team are concentrating on the army command system and we might see something playable before the campaign finishes:
We will have the beta out in either the end of January or the beginning of February and then a demo in March or April. We still have some work to do on the combat system(bug fixes).
Goal: $1,100,000
Now: $328,190
Days: 19
Despite all the troubles that he has already experienced, Wildman is stomping along and hoping to grace us with his prehistoric presence in March 2014. New tiers have been added this week, at $5 and $10, but neither will procure you a Wildman of your own. The first provides full forum access post-Kickstarter and ten dollars grants the pledger beta access, although the full game must be paid for upon release.
Unwritten: That Which Happened - Roxlou Games
Goal: $75,000
Now: $23,490
Days: 16
Kickstarter has hosted many turn-based titles, and Unwritten and Meriwether are the most interesting I can remember seeing for a good few months. Unwritten is easy to describe - "A journey across procedurally generated tundra to meet a god" - but it's rather more difficult to imagine how it will actually play. An extensive update goes into detail about the various mechanics and it makes the wait for funding and release all the more difficult to endure:
A story fragment is the result of a critical decision your clan made. For example, each time your clan participates in a "story event" (a tile that fires off an interactive tableau told out with shadow puppets), the decision you make there converts to a token you take with you, indicating what you decided to do.
Neocolonialism - Sub Altern Games
Goal: $10,000
Now: $7,675
Days: 6
Success isn't yet guaranteed for this game of strategic corporate unpleasantness, although a newly updated alpha may help to convince potential pledgers. Along with that release, there is news of a talk by designer Seth Alter at PAX East:
I hate most educational games, and I say that as a games developer and as a former middle school math teacher. They are almost always terrible fusions of boring gameplay and misleading content. To me, Neocolonialism, in addition to being a really awesome game and political statement, represents a fundamentally new flavor of educational games: one that does not make design compromises, but rather endeavors to be something meaningful and profound.
Goal: $167,000
Now: $20,446
Days: 4
The impending failure of Dreadline's Kickstarter is disheartening, although not as disheartening as the concept of the game itself. Monsters travel through time to the scenes of famous disasters and ensure that everybody dies. You control the monsters. Or at least, you might be able to control them if $147,000 arrives in the Eerie Canal over the next four days. It seems impossible but I, for one, want to believe.