Kickstarter Katchup - 7th July 2012
Kicking And Screaming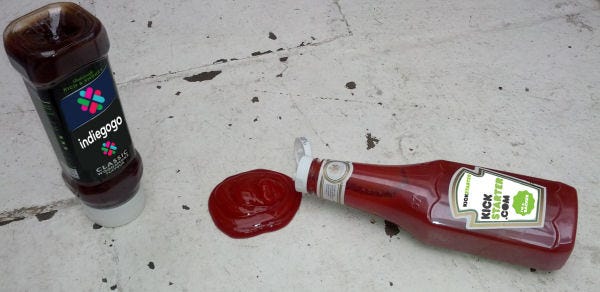 Lots of losses this week, demonstrating that 55% failure rate that gaming Kickstarters experience. Some aren't surprises, others really are. But there are winners too, and an awful lot of new games appearing in the list this week.
Usual disclaimer: Featuring a game here doesn't mean we endorse giving it your money. If there's something you'd like to see appear, email me via my name above, but that doesn't guarantee inclusion. And finally, be warned about "flexible funding" on some Indiegogo projects - it means they'll get your money even if they come nowhere near their target.
The Winners
Paper Sorcerer - UltraRunawayGames
The stunning graphics seem to have convinced enough to want to see this first-person turn-based RPG come to life. It's not quite over, but there are only hours to go and it's well over target.
Indie Graphics Builder - Eldon Harris
There are still three weeks to go for this package of sprite-creating elements for indie developers. A peculiar idea that's already received well over its tiny $1,850 goal.
The Losers
Retrovirus - Cadenza Interactive
Completely bemused by this one. By both how little money it raised, and how little coverage it received from the rest of the oblivious gaming press. It made it barely a third of the way to its $75k goal.
Stalling at the halfway point toward $15,000, it never showed any signs of life for its last couple of weeks, and didn't feature a single public update for nearly a month. There could be a connection there, folks. Gleaves plans to retry.
Ground Branch - BlackFoot Studios
Another surprise failure - despite the ridiculously high asking target of $425,000, I thought enough people would want to see the tactical shooter re-emerge. Except it seems the big mistake was to only be planning to make multiplayer. It's not how most seemed to want the genre, apparently.
Well, sort of. This was flexible funding, meaning they get all of the $2,315 that was pledged, despite apparently needing $40,000. So goodness knows what use that'll be.
The Players
Jack Houston And The Necronauts - Warbird Games
Goal: $56,000
Now: $30,085
Days Left: 33
Perhaps a little over-confident in the video, but a really interesting-sounding adventure based in pulp sci-fi, but with an open-ended story. And really splendidly, using miniatures and stop motion animation to bring it to life. That I want to see. It's had a very slow week in fund raising, but there's still over a month left to reach the modest goal.
Goal: $500,000
Now: $456,164
Days Left: 2
This one's going to be incredibly close. With just a couple of days left, it's still not quite at its enormous half-million ambition. Presumably, with the amount of work that's clearly gone in already, it'll go ahead without the cash - but wow, that's a lot of cash to not quite have.
Goal: $75,000
Now: $20,020
Days Left: 3
Adding a couple more grand on this week, the rendered adventure is going to struggle to make it to its target, I think. Perhaps the world still isn't ready for the return of the render.
Goal: $200,000
Now: $82,082
Days Left: 15
Crossing the $80k line, but still not even halfway to its hefty goal, it really is hard to imagine what more the developers need to do to catch people's attention with this one. It looks splendid, and like Retrovirus, really needs the rest of the gaming press to wake up and talk about it.
Legends Of Aethereus - Three Gate Studios
Goal: $25,000
Now: $8,212
Days Left: 14
New to the Katchup, with two weeks left, is a hack-n-slash action game that is focusing on the hardcore. Describing itself as a "high action, low fantasty RPG", it looks very impressively detailed, and damned gorgeous, built in Unity.
Goal: $100,000
Now: $42,997
Days left: 7
A week left for this CCG-meets-PC zombie project, featuring the likeness of Tim Schafer amongst a bunch of other celebs, to more than double its current pledges. Could be tough.
Exodus Wars: Fractured Empire - Membraine Studios
Goal: $35,000
Now: $6,145
Days Left: 14
WARNING: FLEXIBLE FUNDING
A turn-based strategy that looks fairly hardcore, to the point where they claim publishers aren't interested. But you may well be.
Alpha Colony - DreamQuest Games
Goal: $500,000
Now: $73,503
Days Left: 8
One of quite a few games that'll surely be in the losers column in the next couple of weeks, the attempt to relaunch a classic (and forgotten) game pitched ridiculously high, and it'll take a miracle to see it turn around now. I remain extremely surprised they've not scrapped and relaunched with a sensible goal.
Rapid Assault - Cornered Rat Software
Goal: $100,000
Now: $23,050
Days Left: 14
The WW2 shooter reminds me of the original Call Of Duty, both in style, and perhaps more concerningly, in looks. However, it's more of a simulation tactical shooter, focused on PvP. There's a long way to go over the next two weeks, but they've seen their funds zoom up by well over $10k in the last seven days.
Goal: $30,000
Now: $12,077
Days left: 25
With ages left on the clock, and already well over a third of the way there, a fighting game that began as a joke has become a real thing. They're after the $30k to release the game on PC, after it performing really well at shows.
The Living: 30 Days To Survive
Goal: $60,000
Now: $5,985
Days left: 14
A free-to-play online survival game, that has obvious similarities to Day Z. Except the idea here is to actually survive for 30 days, in real time. There's character customisation, which gives them the in-game currency they'll need, along with four classes, teamwork, PvP and even politicians. You can also play as a zombie. Looks very interesting, but currently they're only showing renders.
Goal: $20,000
Now: $2,400
Days left: 11
Still crawling, with again well under $500 made in the last week, the voxel-based FPS survival game is going to need a big push to make it in a week and a half. They might want to consider some updates.
Coma: A Mind Adventure - Warcelona
Goal: $7,400
Now: $2,270
Days left: 10
WARNING: FLEXIBLE FUNDING
This deeply peculiar climate-changing puzzler looks fascinating. They say that however much they raise with their flexibly funded campaign will define how much they add to the game. Which basically means when you give it money, you really don't know what you're going to get. Which is a problem. And a shame, because it's properly interesting.
Reincarnation: The Root Of All Evil
Goal: $15,000
Now: $11,635
Days left: 6
A really cute video featuring some decent animation (before descending into the usual recorded-on-a-shoe broken audio) accompanies a pitch for a point and click adventure. Reincarnation has already had success as Flash adventures, but now the plan is to create a downloadable game lasting at least four hours.