Killer Is Dead To Live Again On PC
Nightmare Edition Coming May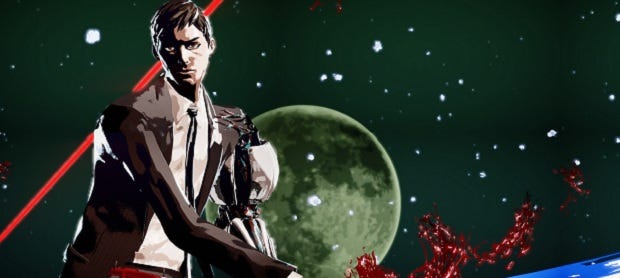 I've just had a quick shuffle through the RPS lunar archives, where old posts are stored in a air-conditioned crater, and I can't find a single mention of Grasshopper's Killer Is Dead. Does this mean we didn't know that it was coming out on PC until this very moment? It certainly seems that way. From Killer 7 director Suda 51, it's an action game about a man with a cybernetic arm that can transform into a gun or drill. Like Suda's previous, Lollipop Chainsaw, it channels an idea of grindhouse trashiness in a way that is easily mistaken for ironic appreciation. I think Suda 51 just loves swords, cybernetics, gore, wrestling, melodrama and sneaky peeks of ladies' underwear. This is a game in which you must carefully apply male gaze to unlock new weapons. Videos below.
Before I continue, let's get one thing clear - I adore Killer 7. Haven't played it since it came out, so maybe my feelings would change if I revisited, but I found it deliciously strange and creepy. I've spoken to a couple of people who reckon Killer Is Dead marks the point when Suda 51 didn't just jump the shark, but jumped the blue whale as well, and then landed in a tank of piranhas. They saw it as the point when the unusual collision of pop culture and a personal brand of surrealism fell away, revealing a far more ordinary mixture of meaningless titillation and violence.
Maybe they're just bored of the art style. I haven't played it but the combat looks quite confused - not in a good way - and the video below just makes me feel faintly embarrassed. It seems a rather convoluted way to sneak a bit of naughtiness into the game without including any wit or sexiness to go along with it. Or sexy wit, which is my favourite kind of wit. This just makes me think of a man on an unwashed mattress kissing a blow-up doll's neck and whispering 'show me the sugar please show me the sugar'.
The Killer Is Dead guide to dating women - don't make eye contact and ogle her 'sexy parts' when she turns away.
There's this too - a sequence in which X-ray Specs are unlocked.
PC players won't have to endure that scene though because, along with a new Nightmare difficulty mode, they'll receive a free add-on pack:
Smooth Operator Pack for console will be included and unlocked from the start, which includes X-ray glasses, bewitching outfits, stunning beauties, and a killer new mission and boss!
Phew. It's out in May.