Killing Floor 2 crawls out of early access to full launch
Ludicrous gibs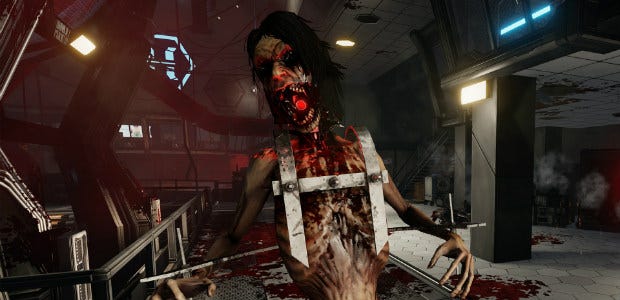 Tripwire Interactive's Killing Floor 2 [official site] has ended its time on Steam Early Access period and launched in full. The co-op wave survival horror FPS sold over one million copies during early access alone. Now those players, and all new ones, get to play with the new Survivalist character class thanks to the launch update. Also, there's a lot of Zeds running around, but you probably knew that.
Killing Floor 2's super bloody, body-exploding style harkens back to games like Duke Nukem and Doom. The amount of viscera generated during a typical co-op match usually ends up painting the walls red, and all the flashy violence is coupled with tight gameplay in which you and three others have to progress through levels while holding off waves of horrific creatures. It's glorious.
If you're into first-person shooters, but are more of a Call of Duty: Zombies fan, Killing Floor 2 features similar frantic, co-op gameplay. I find it a lot more fun when playing with friends to not have to compete against each other, so this sort of game is more of my style.
Now that Killing Floor 2 has launched, Tripwire is focusing on bringing even more content to the game. One definite future addition will be a Mace and Shield for the Berserker. This might seem like a minor addon, but this will be the first shield in the game and marks a fundamental update in playstyle. There will also be a new Zed coming, which is a double-bladed Gorefast.
If you already bought Killing Floor 2 during early access, you'll now have the full version. If you're looking to buy, now's an excellent time as you can get it for £14.99/20,24€/$22.49 on Steam - 25% off the regular price.