King Arthur: The Druids Announced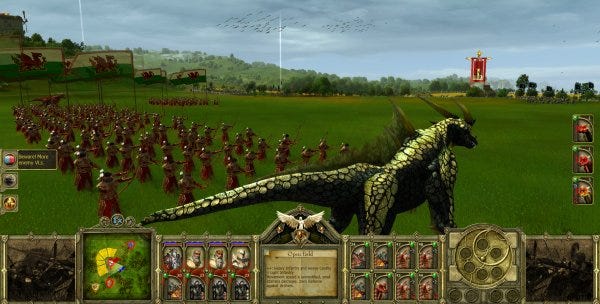 If I know two things about Jim Rossignol, they're that #1, his real name is Beavis Rossignol, and that #2, he quite enjoyed the 2009 fantasy strategy game King Arthur.
Therefore I'm glad to announce that Paradox will be realising an expansion pack, The Druids, before the end of the year, which will add a new story, a new leader, a new sandbox mode and (presumably) new units. Full press release after the jump. I've bolded the good bits.

In Wales, the beautiful and fiercely independent realm of tribal lords, wizards and dragons, lies its new leader, King Ryons. Once known as the most dangerous warlord of the land, King Ryons wants to restore the power of the Old Faith in Britannia and he expects you to lead his valiant effort. Paradox Interactive and Neocore Games today announced the latest expansion of the King Arthur series, King Arthur: The Druids. Set during the events of its predecessor King Arthur: The Role-playing Wargame, this latest expansion features a stand-alone story with a vastly different ruler. Featuring a new campaign with over thirty hours of gameplay, this expansion requires you to challenge and discover your might. With new customizable features, set your own goals and determine the importance of magic in the world. King Arthur: The Druids features a complete, new gaming experience with a free sandbox mode where objectives are merely strategic goals, not compulsory elements of the game. With this new found freedom, can you ensure a victory for King Ryon and restore the reign of the Old Faith?

"This is our first King Arthur release in our partnership with Paradox Interactive," said Tamás Farkas, CEO of Neocore. "After our recent work together with Lionheart: Kings' Crusade, we are confident King Arthur – Druids will exceed our community's expectations."

Scheduled for releases in Q4, 2010, the expansion King Arthur: The Druids is a digital download only release and will be available on all leading digital distribution platforms.
The expansion King Arthur: The Druids will require the base game King Arthur – The Role-playing Wargame for play.