Kingdom Come: Deliverance Delayed Till Next Year
Kingdom come on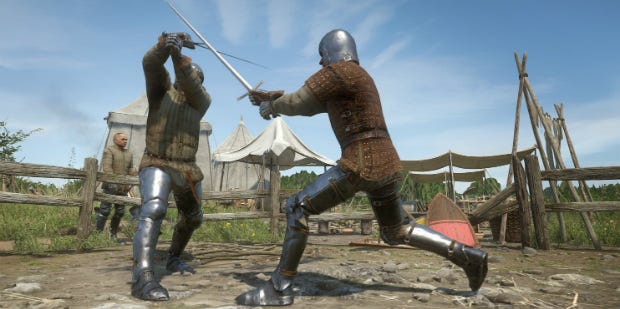 Kingdom Come: Deliverance [official site], you may recall, is Warhorse Studios' heartily-crowdfunded medieval RPG that drops fantasy in favour of realism. It's a novel idea - stripping the genre of orcs, magic and dragons; instead focusing on meticulous combat, stat-building and consequence-bearing dialogue - and its CryEngine-powered getup has so far impressed in both its astute sword fighting sequences and moments of reflection.
Originally scheduled to release in late 2015, then this summer, it now won't be ready until sometime in 2017, Warhorse have now announced.
Community manager 'DrFusselpulli' explained that they want to make Deliverance, y'know, really good. He said:
"We want Kingdom Come: Deliverance to be an exceptional RPG and that requires exceptional treatment and polishing. Since the successful Kickstarter campaign, we have listened intently to the opinions of our fans and with the new language packs, we hope to get even more feedback that will help us deliver the best possible gaming experience. We believe that the result will be a great collective project and will be well worth the wait.

"A new release date will be announced later this year, but is estimated for 2017."
While it's always a shame when promising games get delayed, Kingdom Come: Deliverance looks like it could be worth the wait from what we've seen so far. With E3 just around the corner, might we hope for a solid release date announcement then? Who knows, but here's another look at the trailer from last year's expo in the meantime: