Kojima Logo Trailer: We're Whalers On The Moon...
We carry a harpoon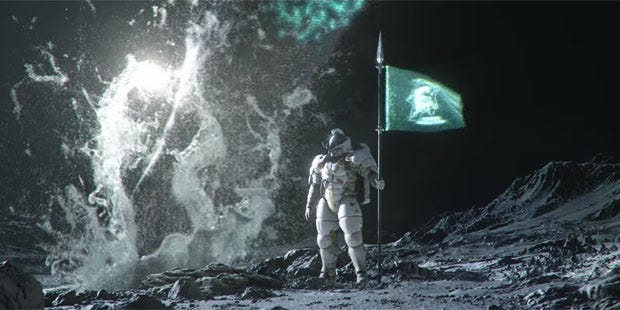 Alice isn't here to tell you about Kojima and the Kojima Productions logo movie that involves a whale on the moon so instead you have me, muddling along and doing my best.
FIRST! The mini movie:
I feel like if Alice was here she'd be talking to you about the symbology of whales in the work of Hideo Kojima and what their presence might mean in terms of this lunar statement.
Or maybe we should be discussing the existence of projectors on the moon and whether the original moon landing would have been more or less exciting if NASA had projected something exciting in the background?
Perhaps people would find the OTHER moon landings more memorable if they each had a holographic animal crashing about?
Or there's the possibility we should be chatting about the effects of oxygen deprivation on astronauts and the hallucinations that might follow?
Or maybe I should be telling you about the theories that man never even landed on the moon and the whole thing was faked so adding a whale isn't going to make it any less factually accurate?
But Alice isn't here so you have me and my thoughts. My thoughts are this:
PS: That astronaut's flagpole could totally double as a harpoon.