LawBreakers is free from now until the servers shut off
It fought the law (and the law won)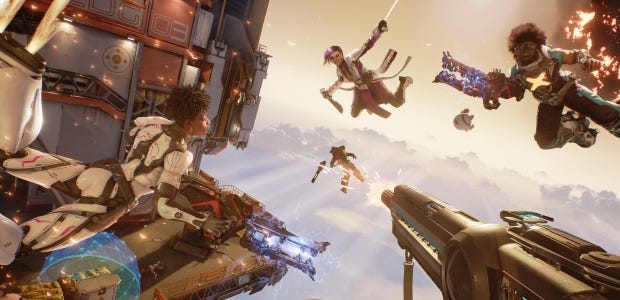 I feel genuinely sorry for the folks at Boss Key Productions. By all accounts, LawBreakers wasn't the game that they wanted to make, but they still delivered a pretty polished arena shooter that just never found the audience it was looking for. Publisher Nexon America are keeping the lights on until September, and in order to give the game a proper sendoff, the formerly retail game is now free for all to jump in and play.
Lawbreakers feels like a game that launched at exactly the wrong time. Just as interest was shifting more towards slower, chunkier, more predictable games like Overwatch, Boss Key delivered a bizarre hybrid of Quake 3 and Starsiege: Tribes, two games which were already out of vogue to begin with. Few people even turned up to early free beta events, and the game fizzled out almost as soon as it launched. It did get some post-release updates, but perhaps the marketing pushed a little too hard, as you can see below.
With the studio floundering and unable to find a publisher, they went all-in with what little resources they had to produce '80s TV-themed battle royale Radical Heights, but it was just too rough and patchy to garner an audience either, leading to the studio shutting down. Never forget, though, that this was exactly the situation that Digital Extremes found themselves in with Warframe so many years ago. The only difference is that despite launching with almost no content, Warframe found a niche, and had a chance to grow. The games industry is a fickle place.
I do hope that out there, somewhere, there's a plan to work out how to host unofficial third-party servers for LawBreakers. Fittingly enough, this would be bending the rules of legality somewhat, but game preservation has to happen one way or another. Even if it never finds an audience in the end, it would be a relief to me - and most likely to the development team, now hunting for jobs - for the game to live on, at least in some small way. Until then, come score some frags.
LawBreakers is free now on Steam, and will be closing its doors this September 14th.