LCS Summer Split 2019 guide - Schedule, teams and results
A complete guide to this year's LCS.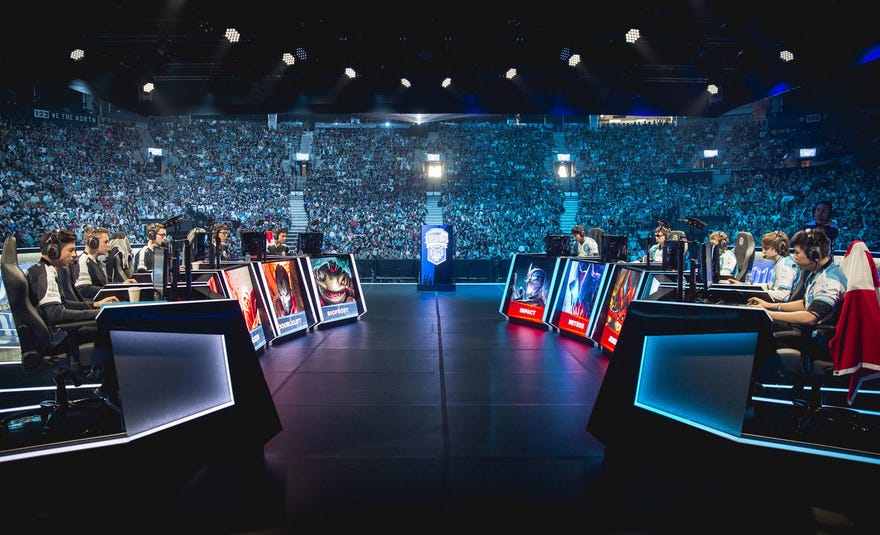 The NA LCS has rebranded to the "LCS" alongside its EU counterpart transitioning to the title of "LEC". Although the league's had a complete revamp, competitive remains just as fierce between the very best teams in North America.
Unlike the LEC which has a couple of new teams, every team from the previous NA LCS season returns for the first season of the LCS. This means legendary squads such as TSM, Cloud 9, Team Liquid and CLG will be contesting the trophy once again, while the likes of Optic Gaming, Golden Guardians and Clutch Gaming try their best to force an upset.
In this article you'll find details of the overall format for the LCS 2019, all of the teams which will be participating, and a complete schedule of all the matches which have been announced so far.
Now that the LCS is underway we're actively updating this article with results and VODs for those of you who want to catch up on all the action.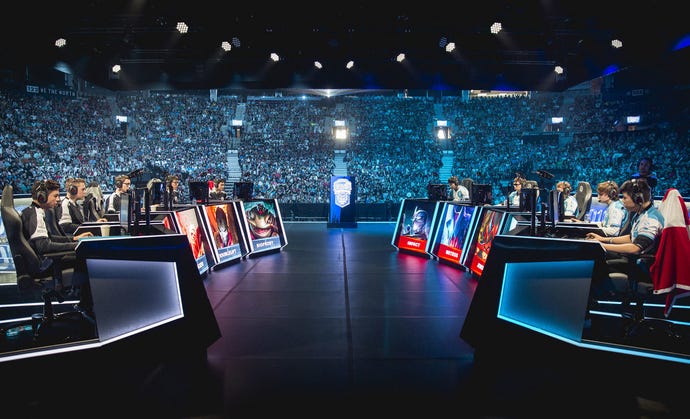 Teams and Rosters
Here's a list of all the teams and their rosters in the LCS.
Cloud 9
Top: Eric "Licorice" Ritchie
Jungle: Dennis "Svenskeren" Johnsen
Mid: Yasin "Nisqy" Dincer
Bot: Zachary "Sneaky" Scuderi
Support: Tristan "Zeyzal" Stidam
Head Coach: Han-Gyu "Reapered" Bok
Clutch Gaming
Top: Seung-Hoon "Huni" Heo
Jungle: Tae-yoo "Lira" Nam
Mid: Tanner "Damonte" Damonte
Bot: Gwang-jin "Piglet" Chae/ Cody "Cody Sun" Sun
Support: Philippe "Vulcan" Laflamme
Head Coach: Brendan "McScrag" McGee
Counter Logic Gaming
Top: Kim "Ruin" Hyeong-min
Jungle: Raymond "Wiggily" Griffin
Mid: Tristan "PowerOfEvil" Schrage
Bot: Trevor "Stixxay" Hayes
Support: Vincent "Biofrost" Wang
Head Coach: Weldon "Weldon" Green
Flyquest
Top: Omran "V1per" Shoura
Jungle: Lucas "Santorin" Tao Kilmer Larsen
Mid: Eugene "Pobelter" Park
Bot: Jason "WildTurtle" Tran
Support: Kim "Wadid" Bae-in
Head Coach: Gabriel "Invert" Zoltan-Johan
Golden Guardians
Top: Kevin "Hauntzer" Yarnell
Jungle: Juan "Contractz" Garcia
Mid: Henrik "Froggen" Hansen
Bot: Matthew "Deftly" Chen
Support: Joo-Sung "Olleh" Kim
Head Coach: Nicholas "Inero" Smith
Optic Gaming
Top: Niship "Dhokla" Doshi
Jungle: William "Meteos" Hartman
Mid: Minho "Crown" Lee
Bot: Donghyeon "Arrow" Noh
Support: Terry "Big" Chuong
Head Coach: Thomas "Zaboutine" Si-Hassen
Echo Fox
Top: Colin "Solo" Michael Earnest
Jungle: Yoonjae "Rush" Lee
Mid:Jaehun "Fenix" Kim
Bot: Apollo "Apollo" Price
Support: Nickolas "Hakuho" Surgent
Head Coach: Sangsu "Ssong" Kim
Team Liquid
Top: Eonyoung "Impact" Jeong
Jungle: Jake "Xmithie" Puchero
Mid: Nicolaj "Jensen" Jensen
Bot:Yiliang "Doublelift" Peng
Support:Yongin "CoreJJ" Jo
Head Coach: Nuri "Cain" Jang
Team Solo Mid
Top: Sergen "Broken Blade" Çelik
Jungle: Jonathan "Grig" Armao
Mid: Søren "Bjergsen" Bjerg
Bot: Jesper "Zven" Svenningsen
Support: Andy "Smoothie" Ta
Head Coach: Anthony "Zikz" Gray
100 Thieves
Top: Chan-ho "Ssumday" Kim
Jungle: Maurice "Amazing" Stuckenschneider
Mid: Max "Soligo" Soong
Bot: Junsik "Bang" Bae
Support: Zaqueri "Aphromoo" Black
Head Coach: Neil "Pr0lly" Hammad
Results
Below we're posting the latest results (behind spoiler tags) and linking to VODs where they are available.
23/24th June
22/23rd June
16/17th June
15/16th June
9/10th June
1/2nd June
2/3rd June
8/9th June
9/10th June
We've also linked out to VODS where they are available, so you can catch up on any matches which you may have missed.
LCS Summer Split Schedule
Below we've put together a schedule for the Summer Split. Here's a breakdown of who's facing who:
All of the times below are in GMT, with roughly one hour between each match.
June
Saturday June 1st
22:00 - C9 vs FLY
23:00 - TL vs TSM
Sunday June 2nd
00:00 - CLG vs 100T
01:00 - CG vs OPT
02:00 - GGS vs FOX
20:00 - CG vs C9
21:00 - FLY vs GGS
22:00 - FOX vs TL
23:00 - TSM vs CLG
Monday June 3rd
Saturday June 8th
22:00 - C9 vs FOX
23:00 - TL vs 100
Sunday June 9th
00:00 - TSM vs FLY
01:00 - OPT vs CLG
02:00 - CG vs GGS
20:00 - CLG vs TL
21:00 - 100T vs CG
22:00 - FOX vs TSM
23:00 - GGS vs C9
Monday June 10th
Saturday June 15th
22:00 - TL vs FLY
23:00 - C9 vs OPT
Sunday June 16th
00:00 - CLG vs FOX
01:00 - CG vs TSM
02:00 - 100 vs GGS
20:00 - OPT vs TL
21:00 - FOX vs 100
22:00 - TSM vs C9
23:00 - FLY vs CG
Monday June 17th
Saturday June 22nd
22:00 - TL vs GGS
23:00 - TSM vs OPT
Sunday June 23rd
00:00 - 100 vs C9
01:00 - CLG vs FLY
02:00 - FOX vs CG
20:00 - C9 vs CLG
21:00 - FLY vs 100
22:00 - CG vs TL
23:00 - GGS vs TSM
Monday June 24th
July
Saturday July 6th
22:00 - FLY vs FOX
23:00 - TL vs C9
Sunday July 7th
00:00 - TSM vs 100
01:00 - GGS vs OPT
02:00 - CG vs CLG
20:00 - FOX vs GGS
21:00 - C9 vs CG
22:00 - 100 vs TL
23:00 - CLG vs TSM
Monday July 8th
Saturday February 9th
22:00 - FOX vs C9
23:00 - GGS vs FLY
Sunday July 14th
00:00 - TSM vs CG
01:00 - TL vs CLG
02:00 - OPT vs 100
20:00 - FLY vs TL
21:00 - C9 vs TSM
22:00 - 100 vs FOX
23:00 - CLG vs GGS
Monday July 15th
Saturday July 20th
22:00 - C9 vs 100
23:00 - TSM vs GGS
Sunday July 21st
00:00 - FOX vs OPT
01:00 - TL vs CG
02:00 - FLY vs CLG
20:00 - GGS vs TL
21:00 - 100 vs FLY
22:00 - OPT vs TSM
23:00 - CG vs FOX
Monday July 22nd
Saturday July 27th
22:00 - TL vs OPT
23:00 - TSM vs FOX
Sunday July 28th
00:00 - FLY vs C9
01:00 - CLG vs CG
02:00 - GGS vs 100
20:00 - FOX vs CLG
21:00 - 100 vs TSM
22:00 - C9 vs TL
23:00 - CG vs FLY
Monday July 29th
August
Saturday August 3rd
22:00 - C9 vs GGS
23:00 - FLY vs TSM
Sunday August 4th
00:00 - TL vs FOX
01:00 - CG vs 100
02:00 - CLG vs OPT
20:00 - FOX vs FLY
21:00 - 100 vs CLG
22:00 - TSM vs TL
23:00 - OPT vs C9
Monday August 5th