League of Legends taking Worlds 2017 to China
Where in the Worlds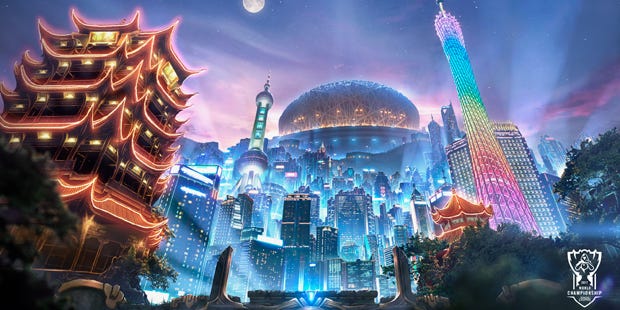 League of Legends' [official site] developer, Riot, has announced the 2017 season's main event locations - the Mid-Season Invitational will be setting up shop in São Paulo and Rio de Janeiro while the World Championship will be spending a month moving around China to top off the season. There are also some structural changes which are interesting if you follow the professional LoL scene like me so read on for a bit more. Everyone else can go make a cup of tea and I'll catch up with you later.
Right, so. I've been wondering when South America (and Brazil in particular) would get a look in on the Riot roving tournament schedule. It's a region of interest in a bunch of esports and seems like a pretty logical place to start taking tournaments. The Mid-Season Invitational is the mid-year event that offers a smidge of cross-regional competition and, on the developer side, it offers a bit of a testing ground in terms of what it's like to host an event in a particular country. MSI was in China last year and this year China is the location for Worlds.
There's a microsite dedicated to the MSI already, It's rather fancy but it will play VERY dramatic music at you and there's a lot of beeping as you navigate around so, y'know, be aware of that if you're in an office or whatnot.
Mid-Season Invitational 2017 info
Play-In Stage: April 28-May 1, May 3-4, and May 6 at the CBLOL Studio in São Paulo
Group Stage: May 10-14 at the Jeunesse Arena (formerly Rio Arena) in Rio de Janeiro
Knockout Stage: May 19-21 at the Jeunesse Arena (formerly Rio Arena) in Rio de Janeiro
In terms of the format, this time around it'll start with 13 teams (last year it was just 6) although only 6 will make it through to the group stage. So it'll be a beefier event in general and with more opportunity for cross-regional experience, but the end stages where most people tune in will be a similar experience to last year but with the chance of some unfamiliar teams or regions showing up. The teams themselves will be taken from all of the 13 LoL pro leagues so it'll be interesting to see a) how they stack up against one another and b) what bringing the less well-known regions into the tournament will do in terms of the experience they take back to said regions afterwards.
In case you're interested, the 13 regions are: Brazil, China, CIS, Europe, Japan, Korea, Latin America (North), Latin America (South), North America, Oceania, Southeast Asia, LMS (which is Taiwan, Macau and Hong Kong) and Turkey. Oh, and if you're interested in how seeding works there's an in-depth explanation on the site but it's mostly just of interest if you're curious about relative weighting of performance. The main point is that China, Europe and Korea will go straight to the Group Stage, whereas LMS and North America only get a bye for the first round of the play-in.
The tournament itself is both a thing with a trophy in its own right, as well as a thing which affects seeding for Worlds. I'm currently enjoying the illustration Riot are using as an example which puts a Korean team in the top spot at MSI with China second and EU/LMS third and fourth. I feel like they could have taken the time to put North America in the top spot and keep hope alive on that front, but perhaps it would have added too much salt to the comment diet.
Aaaaaaaanyhoodle. In the example the top four teams secure the top seeds for their regions at the Worlds Group stage. Additionally, the highest ranking of the teams from the regions that aren't treated as standard attendees at worlds will secure two seeds for Worlds, one taking the top team for that region to the group stage and the second seed getting into the play-ins.
World Championship 2017 info
Play-In Stage: Sept 23-26 and Sept 28-29 at the Wuhan Sports Center Gymnasium in Wuhan
Group Stage: Oct 5-8 and Oct 12-15 at the Wuhan Sports Center Gymnasium in Wuhan
Quarterfinals: Oct 19-22 at the Guangzhou Gymnasium in Guangzhou
Semifinals: Oct 28-29 at the Shanghai Oriental Sports Center in Shanghai
Finals Nov 4 at Beijing National Stadium (the Bird's Nest) in Beijing
Worlds is now going to be a 24-team affair featuring all the regions mentioned above. The expansion means there will thus also be a play-in stage prior to the group stage.
There are a few regional changes to be aware of. One is that LMS is getting a third seed. It's a strong region so that change seems reasonable. Another point to note is that none of the Korean teams will need to compete in the play-in and will, instead, just head straight to groups.
According to Riot: "Korea, as the region that has performed the best overall throughout 2015 and 2016, will have all 3 of its seeds bypass the Worlds 2017 Play-In Stage and start in the Group Stage."
According to me:
The play-in section will involve one team from each of Brazil, CIS, Japan, Latin America (North), Latin America (South), Oceania, SEA, and Turkey, as well as the third seed from China, Europe, LMS and North America. The first round will knock out four teams - one from each randomly sorted group of three - and the second will boot out four more as the top performer of a group takes on a second-performing team.
Groups will then be the four teams that come through from the play-ins, three teams from Korea, the top two seeded teams from each of China, Europe, LMS and North America, AND whichever team earned a bye to groups from MSI.
I'm wondering how the schedule will feel because, that's potentially a lot of experience to gain for the teams who come via the play-ins but good LORD, getting far into the competition would be so gruelling. I'm also in two minds about putting the Korean seeds straight through. I mean I'm not mad keen to watch a less experienced region get strangled so, sure, and perhaps easing those regions in will prove a better gateway or give more helpful experience to leave with, so with a view to the long-term it's potentially better (??). In the short term I'm wondering if we'll end up with another mostly-Korean end stage though. Those matches can be amazing, but it's just so much less about a balanced regional competition a lot of the time, you know?