Leaky leak: Overwatch's next event is PvE Uprising
Fatale mistake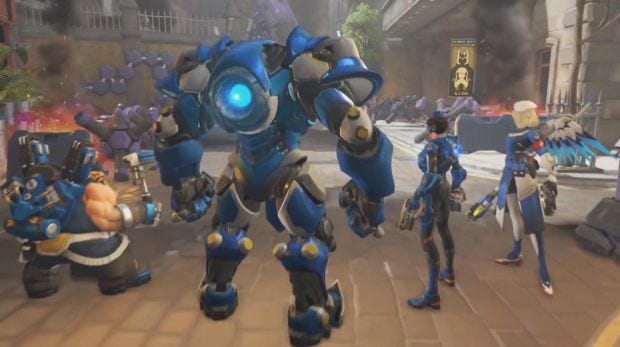 Update: Past Brendan, you fool! It's actually called 'uprising' in English and now has a trailer in that language, available via super-legit sources, and contains all these goodies.
Original story: "Il y a eu une fuite!" That means "There has been a leak" in French, a language which I am now speaking because a trailer for the next Overwatch [official site] event has seeped out onto the French YouTube channel for PlayStation. It's called Insurrection and pits four characters against waves of Omnic robots on the streets of King's Row. And it's due to start tomorrow. Here's the video, which was taken down by the official channel once they realised their slip-up but has - surprise, surprise - been hastily copied by enterprising Tubefiends.
Zut alors, etc. The only thing I understood from all of that was "King's Row has fallen". The event seems to be set during the "Omnic crisis" - that robot versus human war that these rascals always go on about. Or possibly some weird alt-reality. I don't know, it's hard enough to keep up with Overlore in English, never mind this. Anyway, Tracer, Reinhardt, Mercy and Torbjorn will be shooting up the streets, taking out creepy spiderbots and the enemy forces of 'Blackwatch' - McCree, Genji and ... Fatale!? Widowmaker is called Fatale in Overfrench! I feel like I'm learning so much.
The event is starting tomorrow and will run until May 1.