Left 4 Dead Creators Release 'Lost' Campaign
A new/old campaign called Dam It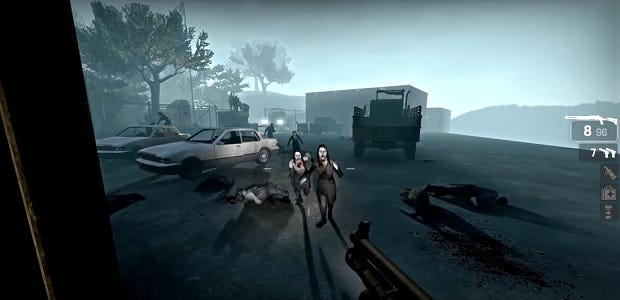 Turtle Rock are moving on from Evolve, their hunters vs monsters multiplayer game on which development recently ceased. Before starting something new, though, here's a brief return to something old - their Valve-published masterpiece, Left 4 Dead [official site]. Via the Turtle Rock forums, studio co-founder Chris Ashton has uploaded Dam It, a campaign that, in a loose narrative sense, falls in between Dead Air and Blood Harvest. It's not entirely finished, with some features not working correctly, but if you have a copy of the original game, you can download and play it right now.
I miss Left 4 Dead. Whenever I see somebody pining for more Half Life, my mind drifts away to 2008, a happy time when I spent almost every free minute fighting my way through zombie hordes with a group of friends. I loved the sequel as well, possibly even more than the original, and my dream game is a new Left 4 Dead using Rainbow Six: Siege's environmental destruction. A mass of undead flesh spilling through the walls of a house, clawing plaster and brick aside, and some overpowered brute punching a hole clean through the barricades your little team of survivors have placed.
For now, I'll content myself with Dam it. It's designed to force separation, or at least to encourage it, the map denying line of sight for cover fire to a tightly grouped foursome. There are more details, including a map and download links, over here.