Win An SC2: Legacy Of The Void Multiplayer Beta Key
Competition closes tomorrow 1pm.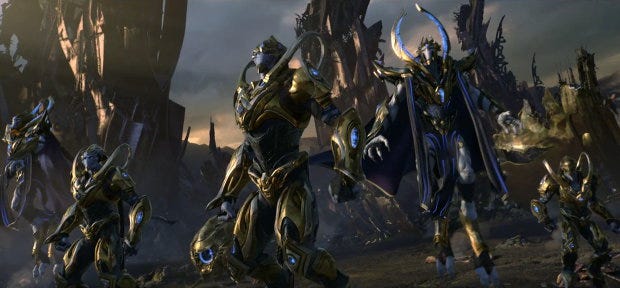 We've got 1000 beta keys for StarCraft II: Legacy of the Void to giveaway. This is the third and final installment in the StarCraft 2 trilogy [official site], bringing the story to a close and focused on the Protoss race. Naturally, it also comes with new units, maps and modes for the series' multiplayer, and that's what this beta gets you access to. Hop below for instructions on how to enter.
The beta gets you access to the game's multiplayer, including the new automated tournaments system, Archon mode, a mix of maps and new units like the Adept, Disrupter, and Liberator. You can find out more about the game's multiplayer here.
This isn't first-come, first-served. Instead, you enter into a raffle by popping your name and email address into the box below. (Your email address won't be used for anything but contacting you with your key should you win).
Completing any further actions then unlocks extra entries, giving you more than one chance at receiving a code when the winners are announced. The actions are: following us on Twitter for 10 extra entries, subscribing to our YouTube channel for five extra entries, or visiting our Facebook page for five extra entries. Hit 'Continue' after performing each of those actions for those entries to be confirmed.
This competition will end at 1pm BST on Friday 2nd October. At that point, winners will be selected and contacted with their key that same day. (This email may come addressed from Gamer Network; fear not, that's us.)
Have at it:
StarCraft 2 Legacy of the Void Closed Beta key giveaway

If you win, you'll be contacted with your key via email. Follow the instructions below for how to use it.
How to redeem your code
1. Go to Battle.net.
2. Create a Battle.net account. If you already have one, log in.
3. Enter your closed beta key into the "Add a Game Key" field provided.
4. Download and install StarCraft II: Legacy of the Void and Battle.net desktop.
6. When installation is complete, ensure that you have 'Beta: Legacy of The Void' selected in the region box (the other options should be Americas, Europe, Korea & Taiwan and South East Asia) and then press "Play" in the Battle.net desktop app under StarCraft II.
Enjoy.