Yeah, Ratfans: The Continuing Legend Of Grimrock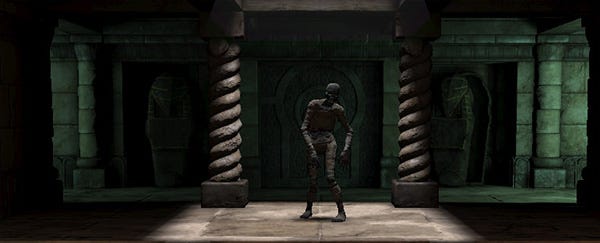 Two things:
1) Latter-day Dungeon Masterlike Legend of Grimrock has sold quite well. 600,000 copies or thereabouts, in fact.
2) This is well enough that IT LOOKS LIKE THEY'RE MAKING ANOTHER ONE AND IT HAS PLAYABLE RATMEN IN IT

"We would've been happy with just one tenth of the sales numbers," say devs Almost Human, "so needless to say we're very happy and the future of our company is secured for a long time."
I don't really believe that they'd have been happy with 60,000 copies sold, but never mind, mustn't quibble. It's a shame they didn't hit seven figures, but the main thing is that they are left willing and able to something new. That something appears to be more Grimlock, as the untitled pair of sneak-peek screenshots rather strongly implies:
Is it a sequel or is it an expansion? Obviously it looks very similar to LoG, so perhaps we shouldn't let our expectations run wild, but I think this is one of those instances where being given, simply, more would be lovely. Though I would very much like to see Almost Human turn their neo-classical design skills to something else: hopefully that will happen too.
Meantime, rat in a suit of armour:
A heroic Skaven, mayhap. I am down with that. Then there's whatever the hell these guys are, too:
HMMM.