Basebrawl battler Lethal League Blaze is out now
Funky fresh beatdowns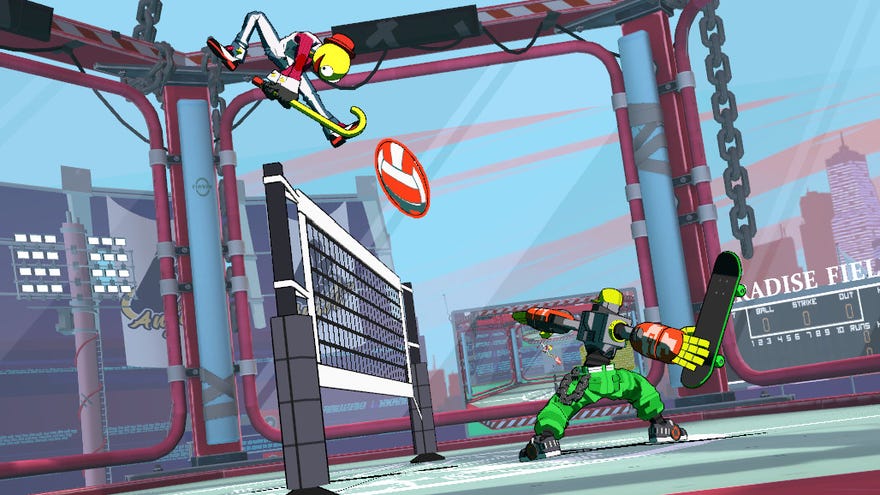 An indirectly fought Smash Bros? Perhaps an extreme sports pong for up to four players? Team Reptile's Lethal League is still a multiplayer fave in many circles. Its sequel, Lethal League Blaze, launched today replacing sprites with 3D models, fleshing out its world with a branching single-player story mode and bulking out its local and online multiplayer with new options. Below, a trailer with some funky fresh beats, a peek at how intense high-level play can be, and some quick thoughts from the preview build I've been in the batting cage with.
While it still uses the same controls and fighting format as the original, Lethal League Blaze introduces more new elements than I was expecting. While purely cosmetic, the move to cel-shaded 3D works marvellously, somehow looking every bit as sharp as the old sprites and just as expressive. There's a handful of new characters (including one - winkingly named Jet - who looks like she's straight out Jet Set Radio), the introduction of health bars so rounds don't end on the first fumble, and an item roulette system that throws some curve-balls into the mix.
Probably the biggest of those changes is the health bars. Previously, one hit and you were out. Now, that only happens once the ball is properly up to speed. Get donked by an early-game slow pitch and you'll still be able to fight on. It's a subtle change, but also helps a lot in messier three or four-player matches. While I've not had a chance to play the game online yet (it only just launched), offline play has been a joy. The new characters introduce just enough twists to mix things up with their new special attacks, but the game remains one of timing, precision and mind-games.
While I've not played as much as I'd have liked (there's too many great games), I'm enjoying this one even more than the original, and hope to take it online for a few matches tonight. The sequel feels slicker and more professional. That's reflected somewhat in the increased price-tag on this one, but I can see Lethal League Blaze making some waves as a side-game in the next big fighting game tourney. Who knows, maybe it could even end up an Evo mainstay? Not bad for a load of old balls. Just take a peek at the mad brawl below, featuring some glorious showboating.
Lethal League Blaze is out now on Steam and Humble for £18/€20/$20.